GTA: The Criminal Enterprises - The Loop
Play Sound
William Sharp is a character in Saints Row.
Look at you. All tied up, pretty as a present. I think it's time to unwrap you...
https://saintsrow.fandom.com/wiki/File:William_Sharp_-_Liberation.ogg
Overview
[
]
William Sharp runs the Westside Rollerz with his nephew Joseph Price.[9][2][10] Described as a "wealthy local attorney and major contributor to the mayoral campaign of Alderman Hughes",[11] the lawyer also serves as the gang's financier who, at the time of Saints Row, is overseeing preparations for a deal between the Rollerz and some overseas buyers.[3][12]
Sharp is a heavily sarcastic,[13][14][15][16][17][18][19][20] cold, and ruthless individual; he dislikes Price's friend Donnie[13][12] and, after his plans for the upcoming deal are thwarted twice,[1][21] he deduces that Donnie's girlfriend Lin has been betraying the Rollerz to the 3rd Street Saints[21] and personally kills her.[6] He is killed soon after by Playa[6] which, combined with Donnie's related disappearance, sends Joseph Price into a rage and leads to the Westside Rollerz' eventual downfall.[22][23]
William Sharp is one of many cut characters in Saints Row IV. His Audio Logs and appearance as a Homie remain internally in the game data files and as such he can be modded into the game.
History
[
]
Saints Row

[

]
As Lin works undercover within the Westside Rollerz, she concocts a plan alongside Playa that will allow her to infiltrate the gang further; after the latter performs a raid on a garage, Lin appears and saves the garage owner and Rollerz mechanic Donnie, who is close friends with Joseph Price. The plan successful, Donnie believes that Lin genuinely saved his life and gratefully takes her to meet Price and William Sharp.[24]
At Price Mansion, after some brief introductions and despite Sharp's insistence to keep quiet in front of Lin, Donnie lets slip that the Westside Rollerz plan to hit a convoy for parts. Lin secretly relates this information to Playa, who in turn protects the convoy from the Rollerz. Sharp later notes that he is surprised to learn that the convoy got away and admonishes Donnie with having "another conversation" when Donnie again lets slip in front of Lin that the Rollerz plan to do a deal with "the buyers" — "a bunch of guys overseas that Mr. Sharp [knows]" — regarding stolen car parts.[1]
I don't give a shit what you do to Lin, but you better not hurt Donnie.

— Joseph Price to Sharp, as the latter leaves to deal with Lin.[21]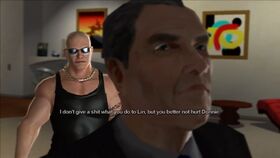 In a conversation with his nephew, Sharp states his concern over Donnie and Lin, stating that he won't "let that nimrod ruin [his] plans". When Donnie comes up with a new plan to scavenge car parts from local cars throughout the neighborhood, Sharp criticizes his inability to "think outside the box", and is threatened by Lin, who defends Donnie. When the new plan is also thwarted by Playa, Sharp concludes that Lin has been betraying the Rollerz (as only her, Donnie, Price, and Sharp knew of the two plans for obtaining the parts) and promises Price that he will deal with her; Price asks that while he doesn't care what Sharp does to Lin, he doesn't want him hurting Donnie.[21]
Sharp captures Lin and ties her to a chair. Using her as bait for a trap, he forces her to call Playa and has them agree to meet her at the pool hall. At the pool hall, Playa fights through the Rollerz to the second floor but is knocked unconscious while attempting to untie and rescue Lin.[8]
Count to ten? You just shot my girl!
Sharp imprisons the two inside the trunk of Lin's Voxel and reveals them before Donnie at the Stilwater river. When Lin tries to explain herself to Donnie, Sharp shoots her with a .44 Shepherd and explains to him her betrayal, prompting Donnie to flee. Sharp then closes the trunk and begrudgingly pushes the vehicle into the river alone, killing Lin. Playa manages to escape through the use of Lin's lighter and avenges her death by killing Sharp in his vehicle during a car chase through the city.[6]
Price uses his uncle's death as one of many reasons to inspire his gang to burn down Saint's Row.[22] In a newscast, Jack Armstrong states that "his car was found wrapped around a tree in the northern district [and] Sharp was pronounced dead at the scene", and that "no other vehicles were involved in the accident and no other details have been released in the case".[11]
Saints Row: Gat out of Hell

[

]
After completing City Takeover, the Shawarma storybook cutscene shows William Sharp centuries later in an alliance with Kazuo, his son Shogo, Jyunichi, and Killbane, who battle and lose against Johnny, Dane, Kiki & Viola DeWynter, Blackbeard, Shakespeare, and Vlad in hell.[25]. Off-screen, Sharp kidnaps Kiki and then Dane risks his own life to save her and defeats Sharp, and in the end, Dane and Kiki force Sharp to be their pool boy.[26]
Gameplay
[
]
William Sharp drives a Justice in Saints Row,[6] which is unlocked in the Garage after completing "Semi-Charmed Life".
Players must chase after him in the mission "Burying Evidence", where he will fight back and attempt to escape in his Justice through Chinatown. The nearby parked Bootlegger found at the beginning of the mission serves as an effective vehicle for the chase, but his vehicle can also be destroyed with an RPG Launcher or Platinum RPG before getting close enough to instigate the chase. Once his vehicle has been destroyed, Sharp will escape it; once on-foot, he is usually armed with a .44 Shepherd and can easily be killed.
Sharp was to appear in Saints Row IV but was cut; he has a physical model (although it's the same model as the congressman from "The Saints Wing"), a Homie icon, and three Audio Logs, which are still accessible in the game data files.
Trivia
[
]
At one point in Saints Row, Sharp abuses his position as lawyer by bribing a jury with "paper and pussy" in order to allow some Rollerz to go free.[28]
The only time Sharp curses throughout the game is in the mission "Burying Evidence", when he says "How the hell is he still alive?".

Though, an unused line from the mission has him say "Oh yeah, fuck you..." in an apparent scrapped death cutscene.

The newscast for "Burying Evidence" states that Sharp was a "major contributor to the mayoral campaign of Alderman Hughes";[11] several other radio campaign advertisements for Hughes mention a group called "Citizens for Hughes", who are responsible for donating The Pride of Stilwater. Sharp is President of Citizens for Hughes.[29]
Despite its name, the Price Mansion Crib, which initially serves as Westside Rollerz headquarters, is owned by Sharp.[30][31]
The retaliatory killing of Sharp is a common theme in the series: All characters who are involved in the death of Saints allies are killed in retaliation midway through the story, which in turn angers the surviving members of their gang.
"The buyers" are referred to as "a bunch of guys overseas",[3] but they do not appear in-game and no more is revealed about them. They are mentioned to be a "loose end" by Julius Little upon completion of the final Westside Rollerz mission.[32]
William Sharp was originally featured in a mission to rescue Lin in Saints Row IV.[34][35]
Sharp's third Audio Log mentions his nephew's death, although Joseph Price didn't die until after Sharp.
Lin reflects on Sharp in her second Audio Log, stating that she "didn't realize how sadistic he was" and that she "[hopes] that bastard burns".
Quotes
[
]
William Sharp and Associates Radio Commercial
Donnie, it's always a pleasure when you bring strangers into my house.
My nephew has a...unique sense of humor.

— Sharp, referring to Joseph Price's lewd remark on Lin's breasts.[1]
Donnie: "So we're finally hitting that convoy huh?"
William Sharp: "I don't know what you're talking about, Donnie."
Donnie: "Sure you--"
William Sharp: "I don't know what you're talking about, Donnie."
Donnie: "Oh... Riiight. Just sit tight, Price should be back soon."


— Donnie is slow to realize that Sharp does not want to discuss private matters in front of Lin.[1]
Lin: "The buyers?"
Donnie: "Oh, they're a bunch of guys overseas that Mr. Sharp kn--"
William Sharp: "Donnie, do we have to have another... conversation?"


— Sharp once again reminds Donnie not to discuss the upcoming deal in Lin's company.[1]
William Sharp: "I know he's your friend, Joseph, but I will not let that nimrod ruin my plans."
Joseph Price: "Your plans?"
William Sharp: "Our plans."


— Sharp and Joseph Price discuss Donnie.[21]
Joseph Price: "I don't give a shit what you do to Lin, but you better not hurt Donnie."
William Sharp: "Of course, Joseph. I'll keep that in mind."


— Sharp and Price, after the two conclude that Lin has been working with the Saints.[21]
William Sharp: "Take a deep breath and count to ten, Donnie."
Donnie: "Count to ten? You just shot my girl!"
William Sharp: "Yes, it's tragic."


— Sharp, dryly, after shooting Lin with a .44 Shepherd before she can explain herself to Donnie.[6]
Audio Logs
[
]
Main article: Audio Logs
Although ultimately not appearing in Saints Row IV, William Sharp has three Audio Logs that can be found in the game data files. Like many Audio Logs, they are a reflection on past events, allowing players a brief insight from his perspective.
Joseph had a good thing going with the Westside Rollerz in Stilwater. Every dollar I invested into my nephew's gang saw excellent returns. Even the Vice Kings and Los Carnalles

[sic]

left us alone. That is, until the Saints showed up. It all started with that slut who infiltrated Joseph's people, Lin.
https://saintsrow.fandom.com/wiki/File:Sharp_Audio_Log_300.ogg

— Sharp Audio Log 1
Donnie let himself get too close. He was Joseph's friend, but he valued his relationship with Lin too much to see what was right in front of his face. Lin brought everything down and Donnie let it happen. If he wasn't so close to my nephew, I would have put him in that trunk with her.
https://saintsrow.fandom.com/wiki/File:Sharp_Audio_Log_187.ogg

— Sharp Audio Log 2
While I blame Lin for her part in what happened, I haven't forgotten the fact that she had help. It was that upstart from Saints Row

[sic]

who did the dirty work for her: raiding my house, killing my nephew and killing me. How could I have let it all happen? I told Joseph he had a traitor among his people too late. If I had only acted sooner, perhaps the Saints would have been wiped out instead.
https://saintsrow.fandom.com/wiki/File:Sharp_Audio_Log_316.ogg

— Sharp Audio Log 3
Gallery
[
]
References
[
]
↑ 2.0 2.1 Cutscene: Meet Uncle Will

Oh come on, Uncle Will, he's not that--

— Joseph Price

↑ 3.0 3.1 3.2 Cutscene: Focus

Lin: "The buyers?"
Donnie: "Oh, they're a bunch of guys overseas that Mr. Sharp kn--"


↑ Cutscene: Lights Out

Sounds like the cops are comin', Mr. Sharp.

— Westside Rollerz gang member

↑ Relation: Nephew
↑ Credits: Saints Row credits
↑ 8.0 8.1 Mission: Liberation
↑ Story Summary: Upon completion of the Mission, this description is available on the 'Story' page, accessed from the 'INFO' tab of the pause menu.

Spying on a meeting between the leaders of the Rollerz, William Sharp and his nephew Joseph Price, you overheard that they were planning to hijack several delivery trucks loaded with car parts. Seeing a good opportunity to mess up their plans, you intercepted the Westside Rollerz and stopped them from hijacking the trucks, getting the 3rd Street Saints some notoriety in the process. You've made things harder for the Rollerz, but they don't give up that easily...

↑ Cutscene: Meet Uncle Will

My nephew has a...unique sense of humor.

— William Sharp

↑ 11.0 11.1 11.2 Newscast: Burying Evidence#Newscast
↑ 12.0 12.1 Cutscene: Thinking Outside the Box

William Sharp: "I know he's your friend, Joseph, but I will not let that nimrod ruin my plans."
Joseph Price: "Your plans?"
William Sharp: "Our plans."


↑ 13.0 13.1 Cutscene: Meet Uncle Will

Joseph Price: "So he's okay? That's great."
William Sharp: "Yes, how could we possibly score dime bags without him?"


↑ Cutscene: Meet Uncle Will

Donnie, it's always a pleasure when you bring strangers into my house.

— William Sharp

↑ Cutscene: Meet Uncle Will

As stimulating as this conversation is, I'm afraid I need to make some calls. If you'd excuse me.

— William Sharp

↑ Cutscene: Thinking Outside the Box

Donnie: "Lin and I got this shit down."
William Sharp: "This should be compelling."


↑ Cutscene: Thinking Outside the Box

So your plan is to go steal cars. You really know how to think outside the box, Donnie.

— William Sharp

↑ Cutscene: Thinking Outside the Box

Lin: "Don't talk to him like that."
William Sharp: "I'll take your advice to heart."
Lin: "It's not advice."
William Sharp: "A threat? How refreshing."


↑ Cutscene: I'll Handle This

Joseph Price: "FUCK!"


Price throws his phone at the wall

William Sharp: "That was productive."


↑ Cutscene: Breaking Up Is Hard To Do...

William Sharp: "Take a deep breath and count to ten, Donnie."
Donnie: "Count to ten? You just shot my girl!"
William Sharp: "Yes, it's tragic."


↑ 22.0 22.1 Mission: No Time to Mourn
↑ Mission: Semi-Charmed Life
↑ Mission: Guardian Angel
↑ Image: Sharp serving Dane and Kiki
↑ Stronghold: Tidal Spring Apartments
↑ Audio: https://saintsrow.fandom.com/wiki/File:Citizens_for_Hughes_VOC-SP_1645.ogg Citizens for Hughes
↑ Mission: "Price's Mansion" Stronghold introduction:

Price isn't gonna pull that bullshit he did on the highway again. Go to his uncle's mansion and steal the prick's car.

— Julius

↑ Audio Logs:

While I blame Lin for her part in what happened, I haven't forgotten the fact that she had help. It was that upstart from Saints Row

[sic]

who did the dirty work for her: raiding my house, killing my nephew and killing me. How could I have let it all happen? I told Joseph he had a traitor among his people too late. If I had only acted sooner, perhaps the Saints would have been wiped out instead.
https://saintsrow.fandom.com/wiki/File:Sharp_Audio_Log_316.ogg

— Sharp Audio Log 3

↑ Cutscene: Loose Ends
↑ 34.0 34.1 YouTube: 10th Anniversary: Saints Row IV