Fire Emblem Warriors: Three Hopes - The Loop
Play Sound
There are Weapons in Saints Row IV.
Weapons
[
]
Super Powers
[
]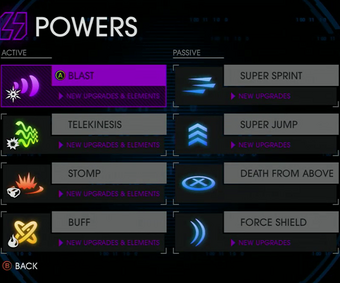 Main Article: Super Powers
There are 8 Powers. 4 active, 4 passive.[imagerefs 8][imagerefs 9]
Trivia
[
]
At Friendly Fire, the name of the weapon is only visible on the first two levels of menus. In the Upgrades and Style menus the selected Costume and Skin are shown, but not the name of the weapon itself.
In the Upgrades menu, the description shown is that the default skin of the selected costume, rather than either the main description of the weapon, or the description of the skin.
Early leaked achievements for Saints Row IV named several weapons which did not appear in the final game, including "Glitch Gun" and "Micronizer", these weapons became the Bounce Rifle and Inflato-Ray, with their effects being changed into Super Power Elements.
In addition to the special "Spec Ops SMG" used in Zero Saints Thirty, there are disabled definitions and unlockables in the game data files for 3 additional weapons from that mission: Full Choke Silenced, Guardsman AR, Shokolov AR.
Original, weapon costumes were unlockables rather than automatically available, and the game data files contain disabled unlockables for the following weapon costumes: .45 Fletcher, 9MM Tactical, Big Game, Blunderbuss, Cumia Magnum, Cyborg Pistol, Deacon 12-Gauge, DEK-RD Railpistol, El Fugitivo, EM Railgun, Full Choke Silenced, Gangland, Guardsman AR, Impulse Rifle, Ion Blaster, Kardak Lasershot, Magna 10mm, Mercenary LMG, Potato Gun, Red Shirt Special, Renegade Pistol, Rubber Band Gun, Shokolov AR, Soakmaster, Spec Ops SMG, SWAT SMG, TAK-10 Streetsweeper, The Captain.
Gallery
[
]
References
[
]
Dialogue references
[
]
Audio references
[
]
Image references
[
]
Saints Row series
Useful Pages for the
Saints Row (reboot)
Weapons

Multiplayer

Achievements and Trophies