Fire Emblem Warriors: Three Hopes - The Loop
Play Sound
Warren Williams is a character in Saints Row and Saints Row IV.[5]
Yo, fuck that. This is what gives us power.
https://saintsrow.fandom.com/wiki/File:Warren_Williams_3rd_Street_Vice_Kings.ogg

— Warren Williams, favoring firepower over politics and brandishing a GDHC .50 in front of Benjamin King.[6]
Overview
[
]
Introduced in Saints Row, Warren Williams is a Vice Kings lieutenant under Benjamin King. The former rapper,[7] who performed under the name EZ Money (pronounced "Easy Money"),[1] now manages Kingdom Come Records, one of the Vice Kings' more legitimate business ventures,[8][9] and has been described as the Vice Kings' "numbers guy".[10]
The ambitious Williams is eager to prove himself by engaging the 3rd Street Saints in urban warfare in retribution for their attacks against the Vice Kings, but is rebuffed several times by King in increasingly tense situations.[11][9][12][13] During this time, he also pursues a relationship with Tanya Winters behind the back of Vice Kings enforcer Anthony Green.[10]
The schism between King and Williams grows as the latter becomes critical of King's stolid demeanor; his reluctance to get involved in drug trafficking and gang warfare;[13] his cultivated friendship with the Alderman Richard Hughes and Chief Monroe;[12][13] and his apparent selfishness.[13] After Green's death,[14] Williams and Winters plot to overthrow Benjamin King and lead the Vice Kings themselves.
The two lead a coup against King,[15] but he escapes with his life thanks to his old friendship with Julius, who sends Playa to save him. Playa and King attack Williams and leave him for dead trapped in the burning wreckage of his Rattler. Williams survives, but is betrayed and promptly executed by Winters, who was never willing to cede control of the Vice Kings.[16]
Williams appears alongside other deceased Vice Kings members Anthony Green and Tanya Winters in Saints Row IV;[5] a reconstructed version of him constantly kidnaps Aisha in the Simulation as part of Johnny Gat's nightmare.[17] Williams never kidnapped Aisha in Saints Row, but may be an allusion to Aisha's line in "...To Kingdom Come": "But the real deal is that once you're in, you can't get out".
History
[
]
Saints Row

[

]
Warren Williams is a second rate rapper turned third rate gangster... right now all he does is run the Vice King record label, Kingdom Come Records, but he is dying to prove that he is as hard-core as he says he is... so far though, King has been keeping him on a tight leash.

— Undercover officer, during their report on the Vice Kings to Chief Monroe.[7]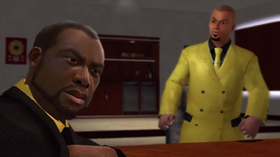 Following the destruction of Kingdom Come Records by the 3rd Street Saints, Warren Williams explains to Benjamin King that, coupled with the loss of revenue from Aisha's death, the "studio incident" would set them back millions. When Tanya Winters arrives to inform King that the Saints have now taken Prawn Court, Williams asks King if he's "gonna let [those] bitches disrespect us", but is told to calm down. King informs him to rebuild the Kingdom Come Records building through contractors that owe the Vice Kings, and throw together a memorial box set regarding Aisha to recoup their losses. Following another outburst from Williams, King demands respect and reminds him that "everything else is business as usual".[18]
I said no. Don't make me say it a third time. Warren my man, you got the music scene locked down. I need you to bring in the chedder, not get shot 'cause you think you got somethin' to prove.

— Benjamin King, calming Warren Williams over his anxiety for action against the 3rd Street Saints.[19]
Later, after Anthony Green successfully captures Johnny Gat, King once again calms an excited Williams, who is anxious to go after Playa and the rest of their gang. The confident leader of the Vice Kings is content with how events have transpired and notes that he doesn't want Williams getting shot just because he believes he has something to prove.[19]
Although in a relationship with Green, Winters has been seeing Williams behind his back. During the reconstruction of Kingdom Come Records, Winters and Williams have been having sex at the site as that's the only time she can get away from Green (who is suspicious of their relationship due to Gat). Winters, not knowing that her chauffeur is Playa, states that she believes that "King should really start listening to Warren".[14]
Once again, a frustrated Williams criticizes King – this time his relationship with the Alderman Richard Hughes – after the 3rd Street Saints dress up as Vice Kings and damage part of downtown Stilwater. He believes that it is firepower, and not politics, that gives them power, and brandishes a GDHC .50 in the conference room. King, who is taken aback by Warren's disrespect, drops all courtesy and promptly tells him to "get the fuck outta [his] office".[6]
I'm through carrying your punk ass. If I were you, I'd drop them damn flags and get the fuck on out of here before I erase your ass.

— Benjamin King, following Williams' final outburst.[16]
Williams and Winters enters King's office and confront apparent indecisiveness that they need to talk to him. King didn't do it due to his reluctance to deal drugs, unlike the Carnales. Warren describes King as a "pussy" which is part of an insult, King takes his head and bangs him on the desk. Warren forget who he is. After Winters bring some Vice Kings members to King's office, Williams and Winters and disloyal Vice Kings members join forces to take out King as an attempt.[16]
Finally, Williams returns with Winters and leads a revolt against King after his supposed failure to effectively deal with the 3rd Street Saints, among other reasons. King escapes with the help of his old friend Julius and Playa, and is forced to ally with the 3rd Street Saints against his gang. King and Playa battle against Williams in the streets and leave him for dead among the wreckage of his vehicle, but it is Winters who kills him; seeing an opportunity to control the Vice Kings herself, she coldly executes him with a shot to the head.[16]
Saints Row IV

[

]
A virtual version of Warren Williams appears in Johnny Gat's simulation where, in a side-scrolling beat 'em up called Saints of Rage, he kidnaps Aisha and takes her away. Gat has been trapped in this simulation for several years following his kidnapping by Zinyak. When Playa enters into Gat's mind, together they head to Kingdom Come Records after fighting through many Vice Kings and eventually face off with Warren. They manage to defeat and kill him, but Aisha isn't there, instead being held at her house by Jyunichi and The Ronin.[17]
Gameplay
[
]
In Saints Row, Warren Williams must be fought at the end of the ninth Vice Kings mission "For King and Country". He drives through the city in his customized Rattler and the player must chase after him alongside Benjamin King inside his Mag. Warren can be defeated fairly quickly under the combined firepower of the player and King, and ramming his vehicle serves as an effective strategy.
In Saints Row IV, Warren appears in the mission "Welcome Back" in Johnny Gat's simulation, a stylized side-scrolling beat 'em up called Saints of Rage, as a boss at the end of the second stage. Players must drain his health bar by attacking Warren and, once he is defeated, the level progresses to the third stage.
Trivia
[
]
Saints Row

[

]
According to Tanya Winters, Warren had called her Aisha several times,[20] implying an infatuation with her.

She also remarks that Warren doesn't last long during sex.[21]
Saints Row 2

[

]
Saints Row: The Third

[

]
A voice actor playing Warren can be heard on the radio when promoting a Vice Kings movie based on Benjamin King's book. In the scene he mentions how King is treated them all like bitches, and depicts the time Tanya and Warren planned the coup.
Saints Row IV

[

]
Warren uses a pedestrian model.
Gat never fought Warren in Saints Row.
Quotes
[
]
Benjamin King: "How much is the studio incident gonna set us back?"
Warren Williams: "The incident? I'm sorry. I thought some muthafuckas blew up my shit. I didn't realize it ain't no thang."


— Benjamin King and Williams, talking about the destruction[22] of the Kingdom Come Records building.[18]
Warren Williams: "So what do we do now?"
Benjamin King: "We wait."
Warren Williams: "Hold on, dawg, that muthafucka is still out there. The fuck you mean, we wait?"
Benjamin King: "I mean, you're gonna sit your black ass down and wait cause I fuckin' said so. Don't worry 'bout the one that got away, the 5-0 will take care of him."
Warren Williams: "Oh, so while you loungin', Tre Street keeps jackin' us. That's great, that's... that's fuckin' brilliant."
Benjamin King: "Slow up, little n​igga."


— Benjamin King and Williams, discussing recent events following the capture of Johnny Gat.[19]
Warren Williams: "Great, now we got yo' cracka ass friends trippin'. Like I said, fuckin' with City Hall is a waste of time."
Benjamin King: "Wrong. Workin' with them is what gives us power."
Warren Williams: "Yo, fuck that. This is what gives us power."
Benjamin King: "Get the fuck outta my office."


— Williams and Benjamin King, after the 3rd Street Saints frame the Vice Kings for causing chaos downtown.[6]
Warren Williams: "You've been puttin' yourself before the crew..."
Benjamin King: "Keep talkin', little n​igga..."
Warren Williams: "If you hadn't wasted our time stickin' your nose up them white boys' asses, we coulda owned the whole damn game by now."
Benjamin King: "I've told you before, we ain't gettin' into that shit."
Warren Williams: "And why the fuck not? That's where the money is! Man, if you got down with that shit back in the day, the Carnales woulda been ghosts right now. But ya didn't, did ya? You were too much of a pussy then, and you're to much of a pussy now."


— Williams and Benjamin King, before he and Tanya Winters start a coup.[15]
I built...I watched...and now I'm acting.

— Williams to Benjamin King, after starting his revolt.[15]
After I kill you, no one's gonna step to EZ Money!
Warren Williams: "Little n​igga... I'll show King who the little n​igga is, his muthafuckin' ass is mine. Hey yo, Tanya--what's goin' on?"
Tanya Winters: "You're a bright boy, I'm sure you can figure it out."
Warren Williams: "Bitch, you better not miss, 'cause if--"


Tanya shoots Warren

Tanya Winters: "Thanks for the advice."


— Williams' final words to Tanya Winters.[16]
Gallery
[
]
References
[
]
↑ 1.0 1.1 Mission: For King and Country

After I kill you, no one's gonna step to EZ Money!

— Warren Williams

↑ Dialogue: Benjamin King calls him "little n​igga" twice: in "Best Laid Plans..." and "Round Peg, Square Hole".
↑ Cutscene: "Boiling Point"
↑ Credits: Saints Row credits
↑ 5.0 5.1 Deep Silver: Saints Row IV - Voice Cast (16 July 2013)
↑ 6.0 6.1 6.2 Mission: 3rd Street Vice Kings
↑ 7.0 7.1 PDF: Saints Row manual (page 11) (File Page)
↑ Mission: Always Use Protection

Benjamin King: "How much is the studio incident gonna set us back?"
Warren Williams: "The incident? I'm sorry. I thought some muthafuckas blew up my shit. I didn't realize it ain't no thang."


— All the King's Men" cutscene

↑ 9.0 9.1 Mission: Best Laid Plans...

Warren Williams: "Come on, King, this is some bullshit. Let me get a crew together. I could roll into the Row and drop all them bitches. I'm tellin' you--"
Benjamin King: "No."
Warren Williams: "But Mr. King--"
Benjamin King: "I said no. Don't make me say it a third time. Warren my man, you got the music scene locked down. I need you to bring in the chedder, not get shot 'cause you think you got somethin' to prove."
Warren Williams: "I can do this!"
Benjamin King: "Maybe, but we ain't gonna find out. We got the cops bustin' up 3rd Street for us, and we got Julius' lieutenant tied up in Anthony's condo. Everything's goin' our way right now, so just chill. Your time gonna come, Warren. It just ain't happenin' now."


— "The Generation Gap" cutscene

↑ 10.0 10.1 Mission: Always Use Protection

Whatever, she don't appreciate fine dining. Now I've been talkin' to Eesh's sister. Turns out Tanya's been fuckin' people in every sense of the word. Not only is she blowin' King's bodyguard Big Tony, but she's fuckin' Warren Williams, their numbers guy, whenever Tony ain't lookin'. Between Tony and Warren the only person she isn't leading around by their cock is King. So I'm thinkin' we put the hurt on Tanya, we're fuckin' up the Vice Kings. She's got an operation in Prawn Court, that's where we'll start. Roll in there and put the murder on anyone you see, customers included. Who wants to die for a blowjob right? When you go for Tanya, be careful, she's probably got some muscle in there.

— Johnny Gat, "A Romantic Dinner" cutscene

↑ Mission: Always Use Protection

Tanya Winters: "They've taken Prawn Court."
Benjamin King: "How did this happen?"
Warren Williams: "How the fuck you think it happened? Look, we need to get together here and just--"


— "All the King's Men" cutscene

↑ 12.0 12.1 Mission: 3rd Street Vice Kings

Warren Williams: "Great, now we got yo' cracka ass friends trippin'. Like I said, fuckin' with City Hall is a waste of time."
Benjamin King: "Wrong. Workin' with them is what gives us power."
Warren Williams: "Yo, fuck that. This is what gives us power."
Benjamin King: "Get the fuck outta my office."


— "Boiling Point" cutscene

↑ 13.0 13.1 13.2 13.3 Mission: Round Peg, Square Hole

Warren Williams: "You've been puttin' yourself before the crew..."
Benjamin King: "Keep talkin', little n​igga..."
Warren Williams: "If you hadn't wasted our time stickin' your nose up them white boys' asses, we coulda owned the whole damn game by now."
Benjamin King: "I've told you before, we ain't gettin' into that shit."
Warren Williams: "And why the fuck not? That's where the money is! Man, if you got down with that shit back in the day, the Carnales woulda been ghosts right now. But ya didn't, did ya? You were too much of a pussy then, and you're to much of a pussy now."


— "We Need to Talk" cutscene

↑ 14.0 14.1 Mission: Green With Envy
↑ 15.0 15.1 15.2 Mission: Round Peg, Square Hole
↑ 17.0 17.1 17.2 Mission: Welcome Back
↑ 18.0 18.1 18.2 Mission: Always Use Protection
↑ 19.0 19.1 19.2 Mission: Best Laid Plans...
↑ Mission: Green With Envy

So Warren called me Aisha again today, can you believe that?

— Tanya Winters during Green With Envy mission gameplay

↑ Mission: Green With Envy

Keep the car running. Knowing Warren, I should be back shortly.

— Tanya Winters in the "Fidelity" cutscene

↑ Mission: ...To Kingdom Come
Dialogue references
[
]
Audio references
[
]
Image references
[
]