The Krunch 106.66[1] is a Radio Station in Saints Row and Saints Row 2.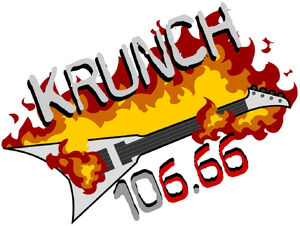 Saints RowEdit
This station plays primarily hard rock & glam metal.
Bubba The Love Sponge[2] is the DJ for The Krunch in Saints Row.
Tracklist
Edit
Saints Row 2Edit
In Saints Row 2 the station has more metalcore oriented bands, Most Brotherhood vehicles are set to this station.[4]
Corndog is the DJ for The Krunch in Saints Row 2.
Tracklist
Edit
You like pop music? Go fuck yourself! Krunch: 106.66!

— Station ID
Curbstompin' mainstream rock since 1984!

— Station ID
The last three numbers, 666 is a reference to the Number of the Beast from the Bible's Book of Revelation. This number is commonly associated with heavy metal music.
When someone calls in to request The Black Dahlia Murder's "What a Horrible Night to Have a Curse", she reveals that her name is Belmont, which is the surname of The Protagonist from Castlevania II, where the song's title was inspired.
In Saints Row: The Third, The Krunch is replaced with 106.66 The Blood.
The radio station's designation is entirely fictitious, as FM radio stations in the United States (where Stilwater is located) end with only single odd numbers (1,3,5,7 and 9).
References
Edit
↑ Image:

↑ Credits: Saints Row credits
↑ 3.0 3.1 Note: Not available at Scratch That
↑ Note: Verified with multiple vehicles
↑ Note: One of six tracks played as end credit music.
This article contains no references. See
Help:Cite
.
Community content is available under
CC-BY-SA
unless otherwise noted.