Thank You Pack

Game
Released

2013-11-05

PS3

2013-11-12

PC

2013-11-19

XB

Cost

Free

File Size

41.62MB

Clothing

Yes

Weapons

Yes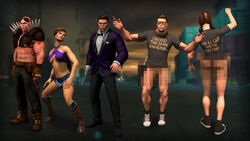 Thank You Pack is free downloadable content for Saints Row IV.
As a thank you for your support of Saints Row IV, please accept this outfit pack which is included for free.

— Voyeur Pack IV Description
The Thank You Pack is free DLC first released on PlayStation 3 as part of a Patch 4 on November 5th, 2013.[1]
A week later, on November 12th, the Thank You Pack appeared in the Steam store, coinciding with Patch 6. Another patch was released soon after to fix the pack initially not unlocking for PC users. The Steam store description references this incident light-heartedly: please accept this free outfit pack which should be construed in no way as an attempt to get back into your good graces following a prematurely-released game patch.[2] Volition Community Manager, IdolNinja, also notes this in the PC Patch Notes for Patch 6.1: The free Thank You Pack -- available on Steam under Saints Row IV DLC -- now unlocks as intended.[3]
On November 19th, Voyeur Pack IV became available and included the Thank You Pack for the Xbox 360.[4] Xbox 360 owners unlock the Thank You Pack by downloading Voyeur Pack IV.
References
Edit
↑ PlayStation 3: Thank You Pack released on PS3
↑ Steam Store: Thank You Pack
↑ Steam Forum: SRIV PC Patch Notes
↑ Xbox Marketplace: Voyeur Pack IV with the Thank You Pack
↑ Image:
This article contains no references. See
Help:Cite
.