This article is poor quality and we need you to improve it.

Marked for cleanup since 2013-02-27 because:
This article is about the building, not the neighborhood. Details about things which do not happen inside the building itself should be moved to the neighborhood article.
Stilwater University is a complex of buildings is Stilwater in Saints Row 2.
Located in the Stilwater University Neighborhood, Stilwater University is no ordinary campus. Built during Ultor's takeover of Stilwater, the university has been used as a major recruitment center for Ultor.[reference?] Two gangs of pranksters have been organised by frat boys, the Brothers of Gamma and the Brothers of Theta.[1]
The Culex Stadium is located in the middle of the university district, it is the home of the Skeeters, and is used for the Demolition Derby.
The Sons of Samedi deal the popular recreational drug, Loa Dust here, until the Saints take over and kill the university dealer Mark Gabby.[2]
Lindsey is a self-described "romance manager" who runs a brothel on site.[3]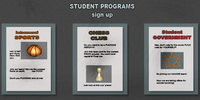 The school colors are black and gold. The university has a Quad day, which is used to advertise clubs and societies using stands, which is used by Samedi to recruit college kids.
According to a map inside the Student Union, the following buildings are on campus:
Art
Computer Game Programming
Film
History
Language
Math and Science
Observatory
Student Union
Another campus location is the Culex Stadium, located in the adjacent Frat Row neighborhood.
The interior contains the Stilwater U. Gift Shoppe and Charred Hard Burgers, along with the Student Council on the second floor with cubicles and a tiny kitchen.
An "Adams Arcade" on the first floor contains a usable Poker, Blackjack and Zombie Uprising machines, as well as an ATM.
The Sons of Samedi use the Stilwater University Student Union as a stronghold, and recruited dealers and muscle there, until the Saints take control of the University.
During Fuzz activities, Playa can be tasked with stopping a group of fraternity pranksters using Chainsaws.
Pi Delta

Theta Nu
Brothers of Theta

The Brothers of Theta are a college fraternity. Blake is a high ranking member and throws regular parties in his college apartment[

reference?

], which consists of beer pong and other frat party activities. Blake bought a fire suit and a quad bike for pledge hazing, which he gives Playa in order to go trail blazing round campus.[4]
Brothers of Gamma

The Brothers of Gamma are a college fraternity in rivalry with the Brothers of Theta, competing by doing practical jokes around campus.
According to the "History of the Saints", the loss of Loa Dust resulted in a 431% drop in enrollment at Stilwater University.[5]
On the radio in Saints Row, a 'Stilwater Community College' is mentioned.
Community content is available under
CC-BY-SA
unless otherwise noted.