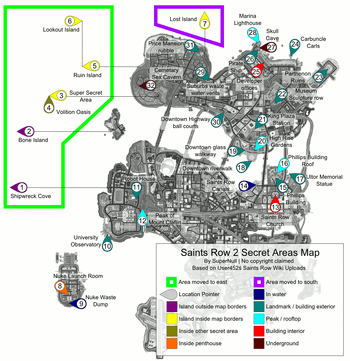 Secret Areas are a collection diversion in Saints Row 2.
There are 32 Secret Areas in Saints Row 2. Upon reaching each location for the first time, a "(location name) found" message is displayed on-screen, but they are not indicated on the Map, and there are no visual indicators apart from the initial on-screen message.
They are counted in both the Diversions menu, and the Statistics Menu, but there is no reward for finding them all.
Some of the locations are encountered during the main storyline, but many are unlikely to be visited without deliberate exploration.
Locations
Edit
Most Secret Area links redirect here.
Feel free to create articles for each, as necessary.
The game data files refer to the Secret Areas Diversion as Exploration, and is part of the same diversion as exploring neighborhoods. The on-screen message is in the same style as neighborhood notification messages.
Unlike other Collection Diversions, Secret Areas are not numbered.
At the Nuke Launch Room, there is a .44 Shepherd model sitting on the table, surrounded by blow-up dolls.
The game data files mention a 33rd location named "Old Bar", but does not define the coordinates. This may refer to Sea Roses, an empty bar in Sunnyvale Gardens.
The capitalisation style of each location varies, with some using title case, and others using sentence case.
The official Bradygames guide contains a wildly incorrect map of secret areas, correctly noting that there 32, but only containing 19 markers.

Marked locations which are not Secret Areas are the Marshall Winslow Recreation Center, Rounds Square Shopping Center, Old Stilwater, Camp Claflin, Stilwater University Student Union, Cliffside drive-in, Gas Station in Sunsinger, the Police Headquarters, Stilwater Caverns, Rusty's Needle in Stoughton, the Brotherhood hideout, the Hotel Penthouse, and two locations around Wardill Airport.
The only marked locations which are Secret Areas are the Cemetery Sex Cavern, the Pirate Ship, the Phillips Building, an incorrectly placed marker near the Parthenon Ruins, and a single incorrectly placed marker for all of the western islands
References
Edit
This article contains no references. See
Help:Refs
.
Community content is available under
CC-BY-SA
unless otherwise noted.