Random Poll
Please wait for poll to load
Random Trivia
Which is the only vehicle with wheel options which cannot have Standard Rims? (
Answer
)
Random File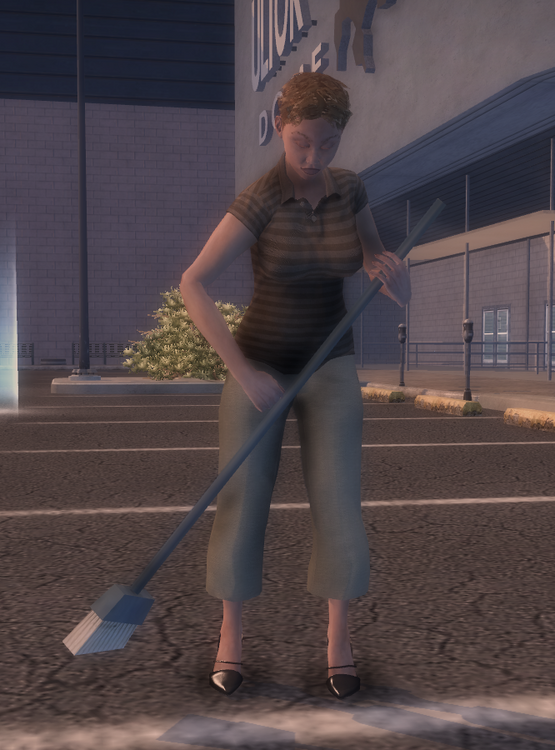 Action Node - sweeping.png
Used on
If this is a poor quality image, please
upload a replacement
.
Randomly chosen from 23757
files
on the Saints Row Wiki
Random Dialogue
Worthplaying: "As a company, how does THQ evaluate if a game product is worth moving forward on? A year or two ago, Saints Row Drive-by for PSP was canceled. More recently, the Saints Row Money Shot project for XBLA was going to tie into Saints Row: The Third, but it was also shelved. How do you determine when to forge ahead?"
Danny Bilson: "It's similar to any other entertainment business. We have a group of executives — in core, particularly — who are all gamers who experienced product in the marketplace. You just know, just like any gamer who buys a game, you know what's good and what's not, ideally. In the case of Money Shot, it will be on PSN as a Sony offering, and I'm pretty sure it's free."


— Worthplaying interview with Danny Bilson[3] (from Saints Row: Money Shot)
Katie is a character in two cutscenes in Saints Row 2.
She casts Playa as a last-minute replacement on FUZZ after seeing his mug-shot on the News, and is later employed as Dex's secretary, meeting him at the airport as he flees Stilwater.
She is voiced by the actress who provided the voice of Samantha.
There was supposed to be a final warning 2 weeks before the update took place - there was not one.

Wikia Staff created a "test" wiki in August, and I highlighted a variety of reasons why the UCP was not prepared for deployment to the Saints Row Wiki. At the time, they had threatened that it was going live within two weeks. Since that "2 weeks" warning went away and never returned, I assumed they were working on fixing the issues I identified.

But as you can see, a variety of problems are now live here.

The only reason it doesn't look worse is because I already began fixing a range of upcoming display problems in June.

I have fixed the vast majority of the things that I can fix, and have annotated the list of issues with what I have fixed, and what is impossible for me to fix.

Transcluded news posts are supposed to be cut off at 600 characters, so this paragraph shouldn't be visible.

This has been broken for

6 months now

.

They have picked the worst time to deploy this without warning, and I will not be able to mitigate their problems until at least the weekend. I expect they will send their goon squad leading part of an advancing military formation in to try to fix the problems their way before I have a chance to do it myself.

As someone who cares about the quality of my work, I am absolutely disgusted by Wikia's lack of interest in the quality of their own work.

It looks like they have fixed a couple of things, however, here is a list of things which a multimillion dollar corporation with hundreds of employees and billions of pageviews thinks is acceptable:

(In no particular order, but numbered because there are so many of them)

Uneven italics tags in headings now escape the TOC and make the entire article italic.

I would have noticed the entire article was in italics previously. and Archive.org results show that this was not the case before the update.

The search page now encourages people to create a page named after their search terms.

There's no reason to do this, and it will only encourage vandalism.

Advanced Special:Search options are broken.

There is nothing I can do to fix this. This is something only Wikia Staff can fix.

The default search for "infobox bullets" shows 90 pages, with the first results being category pages.
After clicking "Select All" only 1 page is shown. (2 now, including this page.)
They've changed something, because these results are no longer the same.

Redirects in Categories are not italicised.

I have fixed myself with CSS, because it's too fucking annoying to leave unfixed.

Links to wikia.com for old revisions of pages which are now redirects, are redirected to the new page instead of displaying the old revision of the page.
On multiple occasions since the update, the Wiki-navigation link to Saints Row Wiki:Templates has randomly changed from "Templates" to "Templates on FANDOM".
Special:ListRedirects is capped at 1000. It used to be capped at 5000.
User pages are now inaccessible: user:452. You can see your own, but everyone else sees "This user has not filled out their profile page yet."

This was not broken yesterday. It's a brand new thing they've added to the pile of broken features.
They've also hidden the edit dropdown - which is hilarious, because if it was there, purging the page would temporarily show the content of the page.
I've side-stepped this myself by modifying the purge script to automatically reload user pages. Because who knows how many months it will be before Wikia Staff get around to fixing it themselves.
For 5 days now, the Saints Row Wiki is the ONLY wiki that displays other people's user pages.

This was eventually fixed.

The API documentation used to be a single page, so it was easy to search for a term and find all occurrences to learn how the API worked. It is now split into individual pages, so in order to learn, you already have to know what you're looking for, which is discriminatory towards new users, and slows down established users.

There is nothing I can do to fix this. This is something only Wikia Staff can fix.

Previews are not wrapped with .WikiaArticle, so are not accurate as some CSS is not applied.

When I first started editing this wiki, previews were flawless, and 100% matched the published page. Over the years, Wikia has introduced more and more inconsistencies, and it's really obvious at this point that they couldn't give a fuck about things like accuracy and presentation.
I could fix this by rewriting dozens, perhaps hundreds, of CSS rules to account for this, but this wouldn't make them accurate due to other issues.

When you go to Special:Contributions/SomeUsernameThatDoesn'tReallyExist, the Contributions link is for your own IP address.

As this is the default behaviour, there is no reason for me to fix this.

DPL "ignorecase=true" does not work correctly

There is nothing I can do to fix this. This is something only Wikia Staff can fix.

Still broken, it seems like it just uses lowercase instead of ignoring the case

DPL queries containing "|addeditdate=true |ordermethod=created" display all revisions instead of just one revision.

There is nothing I can do to fix this. This is something only Wikia Staff can fix.

DPL queries displaying usernames don't work - this effects all previous forum posts.
DPL queries for looking up usernames don't work - my userpage says I've only made 3 forum posts.

There is nothing I can do to fix this. This is something only Wikia Staff can fix.

Usernames are missing in page exports, for all edits before the update occurred.

There is nothing I can do to fix this. This is something only Wikia Staff can fix.

Edits are attributed by ID, but the lack of username makes it much more difficult to read the XML files, especially if you're looking for an edit from a particular user.
The fact that usernames are present for edits since the update indicates that this was not intentional. And hints that this is the same cause of the DPL username issues.
Deleting and restoring fixes all of the username issues. Should I just delete and restore every single page on the wiki?

This issue has been fixed

, apparently by a bandaid fix instead of actually populating the actor database, as the other 2 issues caused by this have not been fixed.

Special:DeletedContributions doesn't list anything deleted before the UCP update.

There is nothing I can do to fix this. This is something only Wikia Staff can fix.

The revisions still exist in the database, and can be seen by viewing the deleted page history itself, and undeleting then redeleting adds it to Special:DeletedContributions. This appears to be exactly the same cause as the other 3 username issues.

deleted revisions of old Blogs are not available to view or restore

There is nothing I can do to fix this. This is something only Wikia Staff can fix.

Special:JSPages gives a 500 error.

Although I did not cause this, I resolved this myself.

Special:Newwikis no longer exists.

This was eventually restored.

WAM is gone.

There is nothing I can do to fix this. This is something only Wikia Staff can fix.

Yet another feature that Wikia Staff never finished, and just abandoned. WTF actually goes on in their minds? Constantly half-arsing new features, making promises about improvements which never happen, then removing them citing lack of use.

The new version of tabview apparently doesn't keep track of which tab is which, resulting in content being loaded into the wrong tab when switching tabs while the tab is still loading.

There is nothing I can do to fix this. This is something only Wikia Staff can fix.

I've been using Saints Row Wiki:UnusedFiles for years by quickly switching between tabs to load them all, and have never seen this happen before now.

Someone - who will likely never face consequences for their actions - thought it would be a good idea to try to generate thumbnails for OGG files, OGV files, and PDF files on category pages

-> <- obviously, because why would you think that an image thumbnailer could make a thumbnail for a sound file?

There is nothing I can do to fix this. This is something only Wikia Staff can fix.

There is no longer a wikifeatures log, so it is impossible to see when features are enabled or disabled.

There is nothing I can do to fix this. This is something only Wikia Staff can fix.

Saints Row Wiki:Sandbox/http://deckers.die. All [[Http://deckers.die]] links are rendered as [[1]]. INCLUDING automatically generated DPL lists:

There is nothing I can do to fix this. This is something only Wikia Staff can fix.

Category Trees STILL counts ghost pages: Category:Template has invalid parameters

There is nothing I can do to fix this. This is something only Wikia Staff can fix.

Wikia Staff claimed over a year ago that the platform update would resolve these.

FINALLY FIXED as of 16:21, 18 August 2021 (UTC)

DPL queries with errors just silently ignore the errors instead of displaying an error message like they used to.

There is nothing I can do to fix this. This is something only Wikia Staff can fix.

This makes it very hard to debug problems. Is the DPL query not showing anything because there are no matches, or is it showing no results because there's some unknown error that I need to be a fucking psychic to figure out.
Note: I've found one case in which a single error is shown, but a variety of error messages which used to be shown are missing.

DPL queries with blurbs don't work correctly

There is nothing I can do to fix this. This is something only Wikia Staff can fix.

Example: The main page news listing has the entire text of every news post, including comments.

Table formatting has changed. Previously, you could put "|width=10em|field contents" to set the width of a field. Now, this does nothing.

This definitely results in countless tables across countless wikis having their table formatting ruined. Thanks a lot, Wikia Staff!

Special:Contact doesn't exist, and just redirects to zendesk. For years, Wikia Staff have seemed like they resent people filing bug reports, apparently they've now decided to make it more difficult for people to do so.

There is nothing I can do to fix this. This is something only Wikia Staff can fix.

Making people jump through hoops so there are fewer bug reports is peak 2020. Absolutely fucking disgusting.

Opensearch is now useless. Wikia Search has always been terrible, so someone created a script called "Search Suggestions" which added a list of title-based suggestions to the top of search pages. I also modified it to add a list of title-based suggestions to 404 pages. Both of these are now useless, and the 404 pages were filled with irrelevant results.

I've disabled both for now. I may be able to create a replacement script, but I have not looked into it yet.

For the past 5 years, Wikia has used MediaWiki:Custom404page-noarticletext-alternative-found instead of MediaWiki:Noarticletext. But UCP doesn't use the new one. Any Wiki who customized the custom one instead of the old one is suddenly using the old one.

Luckily, when Wikia Staff launched Custom404page, it was locked. I had originally told them I refused to use the new one, and told them to disable it, and ultimately just had them redirect it to the old one which I could still edit. It was pure coincidence that I noticed this change.

hidelogs=1 on RecentChanges does nothing.

There is nothing I can do to fix this. This is something only Wikia Staff can fix.

RecentChanges no longer links to IP talk pages.

There is nothing I can do to fix this. This is something only Wikia Staff can fix.

This was changed LATER, around 2020-01-13.

RecentChanges does not always contain the most recent edits, with some edits taking 4 minutes to be shown.

There is nothing I can do to fix this. This is something only Wikia Staff can fix.

I noticed this due to my AjaxRC script, but even manually refreshing the page doesn't show some edits for several minutes.

RecentChanges sometimes misses edits completely.

There is nothing I can do to fix this. This is something only Wikia Staff can fix.

The Recent Wiki Activity sidebar also sometimes misses edits completely, for no discernable reason.

There is nothing I can do to fix this. This is something only Wikia Staff can fix.

When you upload a file which already exists, the error page displays the pre-existing image as a thumbnail gallery, and asks you if you want to add an image to that gallery. (And when you click the button, it shows a blank popup that cannot be closed.)

...WHY? Who could possibly think that that is reasonable behaviour?

The File Upload error page used to have two possible classes: ".warning", and ".error". ".warning" was changed to ".mw-destfile-warning". but ".error" is still ".error"

Why the fuck change one but not the other? Did the programmer fall asleep half way through updating class names?

Newlines are not converted to linebreaks within Tabbers.

There is nothing I can do to fix this. This is something only Wikia Staff can fix.

Yet another instance of Wikia Staff not giving a shit about wikitext.
This was eventually fixed, after staying broken for many months.

Editor preferences on UCP and non-UCP wikis are not correctly matched.

This is just utterly careless.

Section Edit links are displayed even when section editing is disabled in user preferences.

There is nothing I can do to fix this. This is something only Wikia Staff can fix.

Once again, Wikia Staff do not care about user preferences.

The "Template Classification Dialog" popup on all Non-UCP wikis is now broken. So no-one can create templates on wikis which have not been updated to UCP.

So, not only is the UCP breaking things on wikis that were fine when they are "upgraded" to UCP - UCP is also breaking things on wikis that haven't even been downgraded to UCP yet!
Yet another thing that they broke for no reason but will be too lazy to bother fixing, because if they wait long enough the problem will just go away.

Categories are not shown in previews in any namespace

There is nothing I can do to fix this. This is something only Wikia Staff can fix.

This makes it difficult to troubleshoot category problems.

Categories are not shown at the bottom of pages outside of the main or category namespaces.

There is nothing I can do to fix this. This is something only Wikia Staff can fix.

This means which hidden maintenance categories are not displayed at all, which makes it difficult to troubleshoot problems.
Wikia Staff again showing that they don't give a shit about editors.
Categories in other namespaces are back as of 07:36, 26 March 2021 (UTC) but look completely different because Wikia Staff used completely different classes for no reason.

Categories outside of the main namespaces do not use the same class structure.

I have fixed the category styles myself.

Duplicate articles are displayed in the Recent Activity sidebar.

In theory, I could use javascript to remove duplicate articles in the Recent Activity sidebar, but why should I have to?

Fixed before 16 March 2021

Bot edits are displayed in the Recent Activity sidebar.

There is nothing I can do to fix this. This is something only Wikia Staff can fix.

Fixed before 16 March 2021

Rollbacks are displayed in the Recent Activity sidebar.

There is nothing I can do to fix this. This is something only Wikia Staff can fix.

Bot rollbacks are displayed in the Recent Activity sidebar.

There is nothing I can do to fix this. This is something only Wikia Staff can fix.

Fixed before 16 March 2021

Editing an existing redirect causes it to be displayed in the Recent Activity sidebar.

There is nothing I can do to fix this. This is something only Wikia Staff can fix.

Fixed as of 21:41, 19 March 2021 (UTC)

Creating a new redirect causes it to be displayed in the Recent Activity sidebar.

There is nothing I can do to fix this. This is something only Wikia Staff can fix.

Fixed as of 21:41, 19 March 2021 (UTC)

Deleting a page causes it to be displayed in the Recent Activity sidebar as an edit

There is nothing I can do to fix this. This is something only Wikia Staff can fix.

.
This is particularly fucking annoying because it means that vandalism just fucking STAYS THERE.

Deleting a redirect causes it to be displayed in the Recent Activity sidebar as an edit.

There is nothing I can do to fix this. This is something only Wikia Staff can fix.

How does this even happen? Why should a deletion trigger something to be logged as an edit?
At this point I'm surprised that Purges and Null Edits aren't also shown.

Fixed as of 21:41, 19 March 2021 (UTC)

Category:Template errors - 55 pages didn't have errors before the update.
The page resizing breakpoints have an error which doesn't appear at 100% zoom, but appears at all other zoom levels. Resizing any page with a rail to exactly 1024px results in the rail being shown with an incredibly squished article. Tested with 80%, 90%, 110%, 125%, 150% in both Chrome and Firefox. This can easily be fixed with minor changes to CSS - but the point is that testing CSS in different browser zoom levels is such a basic thing to do that this demonstrates that they don't do ANY form of testing at all.
Audio files are broken in in collapsible tables, popout tables, and reference popups.

There is nothing I can do to fix this. This is something only Wikia Staff can fix - because the new audio player is a piece of shit which hides the filename and cannot be reinitialised.
If you disable javascript, the old Audio player is shown, and works fine. So why is there a new one at all if the old one is still present and functional?

Same-wiki external links automatically open a new tab. This means all links in all navboxes open new tabs.
Photosblacklist doesn't work. At all.

There is nothing I can do to fix this. This is something only Wikia Staff can fix.

Titleblacklist doesn't work. At all. Special:Version says it's enabled, but it just doesn't work.

There is nothing I can do to fix this. This is something only Wikia Staff can fix.

When I first reported this to Wikia Staff, they said "Please includt the URL to the MediaWiki:Titleblacklist." Just when I thought they couldn't get any more incompetent.
They have finally fixed this, sometime between 2021-01-24 and 2021-02-13
It is only partially fixed, several filters which used to work no longer do...
and:

Titlewhitelist does not work.
importArticles can not be used in the user namespace to load other javascript in the User namespace
importArticles does not work in test mode.

10 months later, still broken.

importArticles later completely broke, and didn't even work at all.

This single issue has since been fixed.

File names are not displayed on Special:UnusedFiles

There is nothing I can do to fix this. This is something only Wikia Staff can fix.

Works fine on wikipedia, so it's clearly not a mediawiki problem - why is it broken here?

Page usage is not displayed on Special:NewFiles

There is nothing I can do to fix this. This is something only Wikia Staff can fix.

Videos are broken on Special:NewFiles.

There is nothing I can do to fix this. This is something only Wikia Staff can fix.

It looks like the only thing that wasn't updated was Wikia's lightbox, which is as still as broken as ever.

The image lightbox doesn't open when clicking a slideshow gallery on desktop. Clicking a slideshow does absolutely nothing.

After waiting 3 months for this to be fixed, I have side-stepped the issue.

The image lightbox doesn't open when clicking a thumbnail gallery on mobile. Clicking an image results in an error.

After waiting 3 months for this to be fixed, I have fixed this myself.

Global user javascript isn't loaded.

There is nothing I can do to fix this. This is something only Wikia Staff can fix.

It took them just under 6 fucking months to fix this.

Global user stylesheet isn't loaded.

There is nothing I can do to fix this. This is something only Wikia Staff can fix.

It took them just under 6 fucking months to fix this.

Except, as usual, they've fucked it up. The global CSS file isn't being loaded, the contents of the global.css page are being inserted into the page within an unlabelled style tag.

The url parameters usesitecss, useusercss, usesitejs, allowsitejs, useuserjs, allowuserjs don't work, making debugging this update more difficult than it has to be.

Fixed sometime recently, as the help page still states it is broken

Nope, not quite fixed. useusercss and useuserjs work, the others don't.

OGV thumbnails are broken. These have always been broken, but it was previously possible to sidestep the issue by hiding the broken image. Now, the controls do not display until you hover over the video, so hiding the broken images hides the entire video.
OGG and OGV files are unreasonably slow to load compared with before the update.
{{#ip:}} no longer works.
There is no

Special:WikiActivity

, despite Wikia Staff forcing it down our throats for years.
There is no

Special:Pageswithoutinfobox

- rolled my own: Saints Row Wiki:Sandbox/without infoboxes
There is no Special:ActiveUsers
There is no

Special:MultipleUpload

There is no Special:Editcount

Special:Editcount has now re-appeared. Unsure when this happened, as Wikia Staff fired the person who posted Technical Updates and apparently didn't notice they didn't assign that task to anyone else until last week. 20:33, 13 September 2021 (UTC)

There is no

Special:UnusedVideos

There is no

Special:Disambiguations

There is no

Special:Following

There is no

Special:Mostpopularcategories

There is no

Special:MostLinkedFilesInContent

Special:ListUsers says all groups are 0

This was eventually fixed.

Special:ListUsers does not allow admins/rollback/bots/etc to be selected.
Group links to Special:ListUsers do nothing, even for groups which are listed.
Special:ListUsers links to "Wall", despite the fact that User_Talk pages are used here.
Special:ListUsers cannot be sorted alphabetically.
Special:ListUsers navigation does not respect sort order.
The class "article-with-rail" is added to all pages, even when it doesn't have a rail.
The right rail is shown on edit pages in some namespaces, such as User:
There is a certain situation in which the full size (massive) images are being loaded and displayed smaller, instead of loading the appropriately sized image.

I'm not going to report the details about this one, because I want to see how long it will take Wikia Staff to notice this on their own.

Of course they've fixed THIS bug before more important things that I actually reported.

Details: Category pages used full size images instead of thumbnails.
NOW, Category pages are using CROPPED images instead of resizing it to fit. This looks particularly terrible on categories like Category:Weapons in Saints Row 2 and Category:Vehicles in Saints Row 2 which cut off the images.

Namespace checks are broken, {{ns:1200}} previously returned "Message Wall", but instead returns "Message Wall".

Apparently this was fixed, sometime before 16 March 2021

Most wikis are littered with dead links and inaccessible pages of the form "Special:Badtitle/NS1201" - namespaces vary. These cannot be deleted through normal means. All newly created wikis get an inaccessible page "Special:Badtitle/NS502:Recent posts" created by User:FANDOM.

Luckily, the Saints Row Wiki isn't effected by this, as I already manually deleted all pages in those namespaces. However, this does not excuse this absolutely amateurish oversight from Wikia Staff.

Category:Broken references - 220 pages weren't broken before the update: Saints_Row_Wiki:Sandbox/UCP_Broke_References
References was forced into 2 columns for no reason.

I have sidestepped this issue with CSS.

Slideshow galleries do not work at all.

This was partially fixed, and I side-stepped the remaining issues.

There's no fucking Help:Welcome tool any more.

When I reported this to Wikia Staff, they told me "this feature is not currently available on new wikis". Last time I checked, this wiki was created 13 fucking years ago. Once I pointed that out, they told me "The message wall works on another software for new platform." - Last time I checked, this wiki doesn't fucking use Message Wall. (The icing on the cake was that Wikia Staff acted like *I* was the one in that conversation who didn't know what I was talking about, linking me to the Help page despite me leaving comments on the talk page 9 years ago.)

I've created my own replacement welcome tool in less than an hour.

Message Wall Greetings are no longer shown.
Links to Message Wall on wikis without it enabled used to display the user header and links, now it shows a 404 page in the main namespace without a link to the user page.

Yet another way that the New and Improved Tacked On Message Wall has even worse integration.

Tranferred Discussions and Message Wall messages cannot be edited.
New messages can be edited, but diffs and history are not visible. Entirely contrary to the spirit of a wiki.
Transferred Discussions and Message Wall messages contain direct links to images. If those images are renamed, there is no notification of broken images on Special:WantedFiles or Category:Pages_with_broken_file_links - AND there is no way to edit those posts to update the image url.
The new Message Wall does not have the function to close threads to prevent future replies while leaving them visible.
The new Message Wall does not have the function to sort threads by last reply.
The new Message Wall displays deleted threads with no apparent way to opt-out of seeing them.
The new Message Wall has duplicated every old thread on my Community Central Message Wall.
The new Message Wall doesn't link to the "user_talk_archive".
The new Message Wall redirects links to "user_talk:user?action=history"
The new Message Wall redirects links to user_talk diffs.

I knew that the new Message Wall betrays the spirit of wikis, but I didn't realise it also actively preventing access to the history of a wiki.

The new Blog comments redirect links to diffs
The new Blog comments redirect links to action=history
Thread and ?curid= links to specific "New Forum" comments do not correctly link to transferred Discussion comments

These are just the issues that I've noticed, generally because they effect this wiki. Who knows how many other problems there are that I just haven't encountered. Edit: over 100.

In addition, these are the problems which still existed in August when they first announced the Saints Row Wiki would be "upgraded":

There was no user javascript
mw.util was not available, so most site javascript was broken
There was no easy access to source editor. The only way to get to the source editor was to manually add "?action=submit" to the URL.
DPL was completely broken, because the dplcache parameter was throwing an error, so every single page on the wiki was broken.
tabview was not enabled
No OGG audio or OGV video support
The "Disable Category module" option was hiding categories entirely when enabled.

Wikia Staff have informed me that they're aware that UCP is full of bugs and will be doing bug fixes in the next few weeks.

Update: It has been over a month, and the list of problems I've found is much larger, while Wikia Staff have only fixed 1 issue in that time.
Update: It has been over a 3 months, and the list of problems I've found is much larger, while Wikia Staff have only fixed 3 issues in that time.

I have reported several of the most glaring issues which should have never made it past beta-testing, and I'm aware of many other issues, but as the current state of things is 100% their fault, and not mine, I will not be performing any more mitigation until they have declared at the UCP is in a finished state.

To be clear: I have upgraded the site CSS and JS in line with the intended changes, and have implemented some javascript bandaids to fix several easy things. There are a variety of things I could do to mitigate some of the other problems, but I shouldn't fucking have to, because this unfinished upgrade should never have been released.

If you see any other issues, please point them out in the comments below!

452 (between 11:15, 28 October 2020 (UTC) and 18:13, 20 November 2020 (UTC))




Comments

I still can't even fucking edit pages without putting "?action=submit" in the URL manually. 452 11:15, 28 October 2020 (UTC)

You know, a few months back, I distinctly remember thinking, "Godspeed, 452" with respect to Saints Row WIki's inevitable migration to UCP. At multiple points throughout the UCP updates/migrations timeline, I would think upon all the issues I imagined UCP migration would cause more 'complex' wikis like Saints Row; so, I frequently checked to see whether SR Wiki had yet received the migration announcement banner-and once it had, well, it was only a matter of time.

I was not aware of the Saints Row-UCP test wiki and that concomitant migration preparations were underway as early back as August, so at first I was taken aback to read your opening line, "There was supposed to be a final warning..." --because I was thinking about ordinary migration/announcement banner circumstances; I know when the announcement banner first appeared on one wiki I admin (Baccano! Wiki) back in August, I thought I would have at least two weeks to prepare based on some blog post or another I had read on Community Central. B! Wiki was migrated in less than two weeks following the banner's appearance.

I was already planning to wish you good luck with the migration, but, having now seen and read this UCP Update, I can only commiserate and wish you best of luck more fervently. There is a user-compiled list of known UCP bugs at Noreplyz/UCP that you may have already seen, or, if not, have an interest in checking. I don't believe the list is exhaustive, for there is at least one side-effect of migrations I can think of that I don't think is included; I added a bug myself that I submitted a ticket for in September and am still waiting to be fixed (.ogg file player embedded in collapsed content does not work/render). I can only imagine what myriad bugs you and general users have already found and may regrettably still have yet to discover.

Ah, right, I'll try not to digress into a vent about certain general UCP gripes when this forum thread should stick to the Saints Row Wiki migration. I certainly do hope the next Technical Updates are bug-oriented, considering that a wide number of wikis have been newly batch-migrated (and with consideration to all the wikis that have been issue-laden for some time already).

Before I sign off, which editor are you using as your primary/default editor? I switched to the 2010 editor as soon as it was available due to how unbearably slow the UCP editing experience was, and I'm wondering whether ?action=submit is unfortunately necessary regardless of editor, or... Well, you may have already tested that, and I'm sure I could test it myself.

In sum: regarding the UCP migration, my sympathy for you and the wiki is acute. Revriley (talk) 06:38, 3 November 2020 (UTC)

Thanks!
It sounds like we first got the announcement banner at the same time in August.
I had already created my own test wiki back in March so I could align the CSS with the new selectors well ahead of time. They created the "official" cloned test wiki on 2020-07-20, but didn't bother telling me about it until 3 weeks later - there wasn't really anything for me to "do" at that point other than point out a range of flaws. It was soon after that that they "paused migrations" and the banner disappeared from here. But once they resumed migrations, the banner never re-appeared.

(.ogg file player embedded in collapsed content does not work/render).

Thanks, I noticed that, but had thought the cause was just that it was unclickable - unfortunately I only randomly saw it while fixing the randomiser templates on the main page, so that's just going to have to be something fun for me to track down later. edit: found! yeah, just a blank rectangle. Hopefully they fix that soon.

I'm using the 2010 editor (without ?action=submit thankfully) - and will be encourage others to do the same.
Due to all the problems it caused, the old "new Visual Editor" was soft-disabled here, so using the "use site default" (or whatever) option would default to the source/visual tabbed mode, and you could only use "new Visual Editor" if you specifically selected it.
I also can only imagine the bugs that the new "new Visual Editor" is going to cause due to being the default.

They fucked up the implementation of editor preferences, so if you select "source" on a non-UCP wiki, your UCP wiki preference is STILL set to "visual editor - source mode".

I had thought that the problem was simply that option 3 was mapped to option 3 - a rookie mistake, but I just tested the other options and they've successfully mapped both option 1 and 2 to option 1. I think this shows that this is deliberate, so saying "The bug fix for editor preferences being mismatched between Legacy and UCP is currently undergoing QA.", and later claiming it was fixed is yet another lie from Wikia Staff.

Fortunately, most of the issues with UCP aren't difficult for me to overcome, the worst part for me is the timing. That and having to wait up to several days for javascript edits to be approved. And my global JS still not being loaded.
452 14:12, 3 November 2020 (UTC) (updated 17:39, 3 November 2020 (UTC))

I just tried to fix the "ogg in collapsible" problem, and I can't, because the filename isn't even in the HTML. 452 17:52, 3 November 2020 (UTC)

Typo fix for first reply: I typed a semi-colon instead of a colon within the Noreplyz/UCP link. Fixed; link now actually links to the list of issues.

Ha, did you see the global "fatal exception" issue that crashed all UCP and UCP-migrated wikis earlier this morning, as caused by a new UCP update? Refreshed this wiki intending to reply to your reply; got the invalidargumentexception token. Same on Baccano! Wiki. They've reverted the update for the time being and are now trying to figure out what went wrong. I can already think of one thing to fix: improve beta testing + development before rolling out updates! Talk about imbroglios...

Editor preferences

Oh yes, it didn't take long for people to notice this issue after the 2010 editor first went live; it was brought to my attention the day of release, I think, when I was discussing the release in question. I remember them saying they were looking into this issue; I guess I'm not surprised it hasn't actually been thoroughly resolved yet. I mean, they thought they resolved the issue with .ogg files not playing back in September (and, to be fair, they mostly did), but evidently they must not have tested whether .ogg files embedded in collapsed content will be playable after the content is expanded (because, of course, I experienced the bug on B! Wiki here, ticket #973822 submitted Sep 13)--so the state of their beta testing for bug fixes must not be as adroit as one would like. Not to mention the inaccurate image displays for article thumbnails; again, somewhat fixed, but still not properly resolved. Alas.

Glad that the 2010 editor is working out for you. I'd definitely recommend it to others (and have) based solely on the fact it provides a faster editing experience than the UCP editor (regardless of whether one uses Visual or Source); the delay while editing (waiting upwards of a minute or so for inputted text to show on screen, etc) was incredibly frustrating, certainly detrimental to workflow. Of course, if the UCP editors are requiring action...submit on Saints Row Wiki, then that's all the more vital reason to direct users to the 2010 editor for the time being.

I'm not actually sure I noticed any banner on Saints Row Wiki prior to September, when I did see the migration banner show up here. Checking my messages on the Dev Wiki Discord server, I see I wrote 'Godspeed, 452' on September 17 with reference to the banner, again presuming the migration would be a nightmare. Of course, I simply might not have visited the wiki in August at the time you say the banner appeared...

Oh, speaking of things the migration has changed on Saints Row Wiki, your "You must create an account to access File pages" PSA for lightboxes no longer displays; this is due to certain class selectors being removed for UCP. I know this because I decided to follow in your footsteps in the wake of this Technical Update on anons and File Pages (notice how long the discussion continued after you unfollowed that thread; my own comments are buried somewhere in there)--but I decided to do so after the UCP migration, and had to investigate with the Inspect/Chromium Dev Tools to figure out what the issue was (and confirmed my suspicion was correct later).

You're using .user-anon .LightboxModal .LightboxHeader:after currently on Common.css. You need to remove .user-anon for the code to work again; this is because UCP no longer has the user-specific classes like .user-anon and .user-logged. Doesn't seem like there are any updated/replacement versions of user-specific classes; if there are, nobody has figured out what they might be, since the UCP github repository is inaccessible and FANDOM has yet to formally list all the new (changed/replaced) class selectors, or the ones that have been removed altogether for UCP. Of course, this (removing the obsolete .user-anon class) means the file pages PSA will be visible to anons and logged-in users if you choose to keep it, but it's either that or retiring the PSA completely.

(Okay, now I'm generally venting). The class selector changes/removals are definitely one of my bigger UCP gripes, in no small part due to the fact Staff never really formally informed users of the changes. A change in a certain class selector immediately 'broke' B! Wiki's article background image upon migration, for instance. When trying to fix it, I was kindly informed by our former Wiki Manager I needed to actually switch to another class selector because the one I used was no longer acceptable according to FANDOM's updated Customization Policy (which I had not realized had been updated). Then I had to dig around with Dev Tools for the updated class selectors for User Profiles. Essentially, us users are figuring out what class selectors have changed or been removed by stumbling across them as we go, it seems. Revriley (talk) 18:53, 3 November 2020 (UTC)

Yeah, I was fixing something at the time and it occurred between me submitting an edit and the page loading - for a second I though I'd caused it.
I just wasted too much time trying to dig into the ogg issue. I'd like to just disable the new player altogether, since the old player is still perfectly functional underneath it. As it is, I need to maintain the CSS for both for now, which sucks - and having 2 different players is going to be confusing for people.

the UCP github repository is inaccessible

Wow, yet another reason to dislike it.
That would explain why I got nowhere trying to figure out the new media player. I guess I'll stop searching github and just read the javascript directly.
Thanks for the heads-up about that message, I plan to - eventually - go through all my CSS to see if there's anything missing.
As a workaround, I'll just check javascript for wgUserId and add my own class.
I won't be revisiting that thread. Was there ever anything useful, or just more of the same from the usual people?
452 20:14, 3 November 2020 (UTC)

I just had the displeasure of trying to use Message Wall on a migrated wiki.
It's unfathomable that they could make Message Wall WORSE than it was. You can no longer get to a thread from Special:Contributions, you can't get a thread ID from the page ID, diff links don't work - but ?diff=curr" does.
And apparently some wikis have a completely bizarre Special:RecentChanges and Special:Contributions now?
452 13:36, 4 November 2020 (UTC)

I had completely forgotten that the mediawiki update is just UCP "Phase 1".
Phase 2 is likely to be even worse for highly customized wikis.
452 14:05, 5 November 2020 (UTC)

I've now gotten Template:Random/Audio working fine, as well as purging and null editing pages.
Unfortunately, I cannot get audio working in collapsibles, popout tables, or reference popups.
The reason for both is that it is possible to initialise uninitialised audio players using

 $('video, audio').embedPlayer(); 

, but that doesn't work on players which have already been initialised.
The reason that collapsed audio players don't work is because the initialisation script doesn't like the fact that it's not visible.
A work-around would be to have all collapsibles visible by default, and have them collapsed after load with javascript. HOWEVER, the audio player is initialised very very later into page loading, after readyState == complete, so you'd have to do a check for audio in collapsibles, and add a listener to the audio player to see if it's initialised. I might try that myself next week.
But there's basically no way to get audio working in popout tables or reference popups.
452 16:49, 12 November 2020 (UTC)

I normally keep swearing out of the main post, and save it for the comments. And I did, when I first posted this.
But fuck this shit-show. Why the fuck should I bother to sound professional in a news post when Wikia are so unprofessional that they release a bug-filled mess?
If it had been one or two unforeseeable edge-case bugs, but this list shows an utter lack of testing, and an utter lack of care. 452 18:13, 20 November 2020 (UTC)

After waiting 2 entire months for Wikia Staff to lift a finger, I've created my own replacement welcome tool in less than an hour.
It's not fucking difficult, yet these so-called "professionals" can't manage to do it. These only thing they know how to do is make excuses. This "Can't-Do" attitude is the root cause of everything wrong in the world, so congratulations Wikia Staff for perpetuating that.
If I were so inclined, I would recycle my "chat welcome" script which left welcome messages on Message Walls when people joined the chat, but since hell will freeze over before Message Wall is enabled here again, there is no point in me doing so.
452 16:56, 2 January 2021 (UTC)

The terrible changes start coming and then don't stop coming apparently.
RecentChanges has now been altered so that there are no links to IP talk pages. It wasn't like this 2 days ago.
They haven't fixed a single fucking thing in over 2 months, but they've made another thing FUCKING WORSE?
452 00:41, 16 January 2021 (UTC)

We just passed 3 months, and I count 3 issues fixed.
At this rate, the UCP will be finished in April... of 2026.
Except that in those 3 months, there have also been at least 3 new issues introduced, so I may be being too optimist, as usual.
452 19:22, 30 January 2021 (UTC)

RecentChanges is still fucking up.
This edit happened, it's in the history and in my contributions.
But it's not on Special:RecentChanges, or in the Recent Activity sidebar.
Earlier, RecentChanges was just lagging, now it's missing edits altogether.
452 11:12, 5 February 2021 (UTC)

To test it wasn't an issue with pages starting with ', I performed another edit to the page, and that showed up in both fine. But RecentChanges STILL says that there has only been 1 edit to that page, and doesn't show the earlier edit.
I used the normal editor, and didn't do anything strange, and it's not listed as a bot edit.
452 11:15, 5 February 2021 (UTC)

And again with Template:Discuss.articlelist
It has just occurred to me that this means vandalism could be occurring right now and I would have no way of knowing.
452 13:37, 5 February 2021 (UTC)

Embedding images so they're not "unused":

Table formatting differences, before and after

Newlines are stripped in tabbers, before and after

452 18:49, 10 February 2021 (UTC)

134 days since I was told that "we're certainly going to be doing a lot more bug fixing in the coming weeks.", Wikia Staff have announced they will start fixing bugs. ~ 452 (talk) 19:05, 12 March 2021 (UTC)

They're going to be listing everything they fixed, which will make it very easy for me to cross-check with my list.
So far, they've fixed nothing I've outlined, but have introduced another CSS problem for me to resolve, as well as "fixing" "A bug causing the project namespace to miss the right rail" - which I thought was a intentional, welcome, change.

They've finally gotten around to fixing the duplication in the Recent Wiki Activity sidebar module. It only took them 139 days to fix it since forcing the Saints Row Wiki to update, despite this issue being immediately visible to anyone who actually edits a wiki.
I've also just noticed that they've unceremoniously deleted the UCP test wiki I created in March 2020, where issues such as that one were immediately apparent. They're so opposed to the very concept of testing that they delete test wikis titled "This is my test wiki" without warning.

The problems I've listed here are just the tip of the iceberg, as this week they've finally fixed more than 100 other bugs. ~ 452 (talk) 19:30, 19 March 2021 (UTC)

Apparently after spending a week and another week, fixing hundreds of bugs I had never even encountered, they've stopped fixing bugs, despite not even fixing half of the bugs I have found that they introduced last November. ~ 452 (talk) 19:46, 4 April 2021 (UTC)

Special:Editcount is back. ~ 452 (talk) 20:33, 13 September 2021 (UTC)
Special:ActiveUsers also. ~ 452 (talk) 20:35, 13 September 2021 (UTC)

...but only redirects to Special:Listusers. ~ 452 (talk) 20:36, 13 September 2021 (UTC)

Phase 2

Regarding 452's 14:05, 5 November 2020 (UTC) comment, "I had completely forgotten that the mediawiki update is just UCP "Phase 1". Phase 2 is likely to be even worse for highly customized wikis": If it helps, so did I. When I first got the FandomDesktop advance opt-in notification (the one that generously allowed us local admins to frantically try to make their wikis remotely presentable in advance of the new skin's global rollout), I ending up sifting through UCP posts just to confirm the whole Phase concept. "Oh yeah, they did say that, didn't they..."

Well, now that FandomDesktop's global rollout has more then commenced...how are you liking them apples? 'Global rollout', psh. Why bother giving admins the ability to mark a wiki as "rollout-ready" in the Admin Dashboard, is what I want to know. The existence of such a button implicitly suggests / recognizes there will be some admins who do not believe the wiki is rollout-ready, and by 'believe' I mean "agree, because the admin knows full well how much work on the new skin customizations they have done and have yet to complete." Yet, heedless of this, FANDOM has rolled out the new skin for wikis that are implicitly not ready. I know because I definitely did not mark any of the wikis I admin as ready for the rollout. I suppose they meant "ready for advance rollout, but suck it up, buckaroo, the global spring/summer rollout will happen no matter how unready you are."

I'm writing this as a top-level comment, rather than as a direct reply to your November 2020 comment, because I expect FandomDesktop / Phase 2 as a topic is so broad / major that it will benefit from a new, distinct comment thread. The new skin isn't just a matter of aesthetics, after all; it's caused a lot of 'breakages' on wikis and expects a new workload of admins with regard to making a wiki Light or Dark Mode-compatible. Sure, there are global defaults, but a lot of manual customization is needed from us if we want the wikis to, you know, actually look good. So many templates need mode-specific versions now...so, so many. —Revriley (talk) 21:12, 27 July 2021 (UTC)

Thanks for stopping by again.
The thing is, I had begun working on updating the wiki for the new layout, and was planning to mark it as ready when it was ready... then the very next week they went ahead and enforced it here anyway, so my enthusiasm for not letting them make the wiki look like shit evaporated.
I would have had the CSS sparkling before I pressed the rollout-ready button, but if they want the wiki to look like shit by forcing the update before I'm ready, that's on them.
And I don't even need to make a new news post about it, since this one is still current, and they never fixed all the issues with it.
I'm pretty sure that when there's a clogged toilet at FANDOM HQ, instead of calling a plumber, they just take another dump in it. Probably an upper-decker.

     "Thanks for stopping by again." | Of course! I did mean to reply to your reply, by the way, I just...well, let's just say time blindness and forgetfulness are perennial personal issues I am perennially attempting to improve. (That, and there's the godforsaken unfinished Master's Thesis that coils around my neck.) Saints Row Wiki is one of those wikis I like to check in on now and then more for how it's run/organized rather than its content; that is to say, I've dabbled when it comes to playing the games themselves—but only dabbled, so actively contributing to the wiki (beyond minor edits) has not been a factor in my visitation. (Embarrassing, I know, but my first experience with Saints Row was Saints Row IV, which I bought in 2014...but still have yet to finish!) I think—years back—I came across one of your comments in one of the Community Central forum threads or technical updates or staff posts, was impressed (then checked out Saints Row Wiki and was further impressed)—and thereafter began checking in from time to time. What can I say? There are a few local wiki admins whom I've come to admire and learn from, regardless of their wikis' subject, and you're one of them. Come to think of it, I stumbled across a...drama compilation post (?) involving you / this wiki on an unaffiliated site some months ago—imagine my shock when I recognized whom it involved. I considered informing you (but forgot to), and perhaps I should still, but that's for your Talk Page as opposed to this thread.
     Yes, I had started FandomDesktop prep work on the four wikis I admin as well. It was...frustrating, the day I checked the 'logged-out' version of the most popular wiki (Baccano! Wiki) to discover the default skin for anons had been changed to FandomDesktop regardless of the fact I was not ready. Certainly, I'd made headway on B! Wiki and the other three during the advance period, but there was and still remains work to be done. I am only one person, responsible for four wikis, and changes across four wikis takes time. Making mode-specific alterations is especially intensive; as I alluded to, templates in particular are likely to look good in one mode (i.e. whichever mode the pre-existing theme inherently adhered to more) versus another. IN other words, just because I'd made headway on the most major / critical issues raised by the new skin doesn't mean I had—nor have I still ubiquitously—tackled all the issues. Again, there remain templates to mode-tailor... I still haven't fixed the damn templates that are both specific and imperative to one article in particular, though with those ones it's more a matter of figuring out the tabs...but I ramble and digress per my usual nonsense. Forgive me.
     By the by, I believe you without hesitation when you say you would have made the CSS sparkling had FANDOM not steamrolled ahead; I notice with some amusement that Saints Row Wiki's MediaWiki:Fandomdesktop.css does not even exist yet, perhaps because it may not need to, since you're on top of things. I have been making an effort to appreciate some of the positives that have come from the new skin in the meantime. Pinned local top nav, natively accessible article TOC while scrolling, and a Dark Mode toggle (despite the labor Light / Dark Mode all but requires of local admins) are all good things. Of course, the downsides... Actually, hold that thought. I didn't give the mode toggle a go on Saints Row Wiki before, but now that I am, it seems there's no difference? Dark Mode is the same as Light Mode? This must be the result of a conscious action on your part. I'm curious: is this because you cannot or do not want to create a whole new 'mode' for the wiki (e.g. you reject acquiescing to the labor demands imposed by a mode you did not ask for), or is this a temporary measure stemming from principle (e.g. you refuse to stand for a half-baked, work-in-progress alternative mode and will only permit mode toggling once you've cobbled together an encompassing, fully realized/ubiquitously reaching cascading style sheet)? Given your personal standards and your remarks re: "If they want the Wiki to look like shit", (hah!) I'll guess the latter.
     Given SR Wiki's behind-the-scenes complexity, and given your article count is double that of B! Wiki's, I simultaneously, respectively understand and don't envy you... Ah, postscript: Good call on sectioning off Phase 2. Clearly delineating topics never hurts. —Revriley (talk) 04:27, 28 July 2021 (UTC)

Awww, thanks. It's nice to be appreciated.
Sorry for my lack of response, I wrote one then my browser crashed and I've just been too depressed by this shitshow to even look at the wiki recently. Even just looking at this now has given me a headache.
No problem about not playing the games, with your first experience being SRIV, I don't blame you at all for not finishing it - speaking of shitshows, it's like they just left out a bunch of cutscenes.
Are you referring to the /r/HobbyDrama post? Yeah, I found that while I was googling for updates on that situation. As far as I can tell, he finally gave up.
No problem with the rambling, I do the same!
Luckily, having previously made most of my templates skin and width agnostic for monobook compatibility served me well.
I had no idea Fandomdesktop.css even existed, and won't be using it.
I like your train of thought discovery of the SRW's lack of dark mode. I had a really good explanation for that in my first draft - I don't recall what it was at all! A little of column A, a little of column B. I saw there were problems with the default dark mode, so I fixed them in the simplest way.
Hmm, the first time writing a response, I remember my response was so long I was going to split half of it into a talk page conversation, but I can't for the life of my remember what I possibly could have talked about. Weird. Probably an extended rant about how much fANDOM sucks.
I notice that the Forum namespace is missing the sidebar - great. OH, and even better, logged out mode doesn't have the RecentChanges module at all. Ugh. It's like Wikia Staff don't even care about recruiting editors at all any more. It's so weird that they seem to HATE editors with such passion, do they not understand who creates their content???

Just now, the color of the "fandom-community-header" text has defaulted to black across all wikis, despite the local theme setting it to white. ~ 452 (talk) 16:58, 18 August 2021 (UTC)



Since Forum:Saints Row IV facts worked so well as an information dump, I'm going to go with that format again. Saints Row: Gat out of Hell can only hold so much information, so it's nice to have somewhere to list all known information before it gets organised. Please add the facts and references here to relevant articles. Any time a gameplay video is released, let me know here and I'll upload 100 screenshots of it for use as references. Remember: This wiki does not claim to be a news site.
This wiki is the largest and most detailed archive of information about the Saints Row series, it is built by fans, for fans - if you're a fan, and you want to add news, feel free!

Source Videos

Official - hosted on one of the official youtube channels.

Unofficial

If you know of another gameplay video, please leave a comment with a link. (Any links to duplicate videos will be deleted)

Topic
Information
Source
Platforms
PC, Xbox 360, Xbone, PS3, PS4.
[1]
Release Dates
US: 2015-01-27
UK: 2015-01-30
AU: Unknown
[1]
Playable characters
Gat and Kinzie are playable. No information has been released regarding how to switch between them. It is possible to switch between them by going to the Ultor headquarters. It has been stated that in Co-op, the "host" is always Gat and the guest is always Kinzie. It has not been stated what happens if you attempt to start a co-op game while already using Kinzie.
Customization
It is not possible to change Gat's or Kinzie's appearance or clothing. Or customize any vehicle. Or the appearance of any weapon.
[3]
Menu
Map, Quest Log, Arcane (Super Powers), Upgrades, Stats, Audio Tomes (Audio logs?)
[4]
Music
The Radio Stations menu is missing from the Cellphone/Hub. No music has been featured in any gameplay demo. There are no radio stations.
[4]
Homies
The Homies menu is missing from the Cellphone/Hub. There are no homies. It is not possible to communicate with characters outside Hell.
[4]
Cheats
The cheats menu is missing from the Cellphone/Hub There are no cheats.
[4]
City
Hell, specifically New Hades, which has 5 Districts, and 81 neighbourhoods, a Tower in the center, and additional smaller surrounding islands.

Update

After release, there are now 82 Hoods.

[5] [6]
Districts
"Shantytown", "The Den", "Downtown", "Barrens", "Forge", with a tower named "Tower" in the center
[5]
Neighbourhoods

Downtown - Angel Tears[7], The Pride[8], Smoke Pass[9], Blistering Pools[10], Rebellion Square[11], Goldenyard[12], Cardinals Glance[13], Veiled Sentry[14], Dragonbone[15], Dragonskin[16], DyWynter View[17], Executioners Brace[18], Faithless Hill[19], Seers Tongue[20], Azazels Court[21],
Forge (16 hoods[22])- Avernus[23], Burnt Offerings[24], Liars Line[25], Ultor[26], The Stacks[27]
Shantytown - Broken Cross[28], Omega Court[29], Goats Heart[30], Sinners Circle[31], Gluttons End[32], Frog Square[33]
Barrens - The Forlorn Path, Angels End, Loveless Rock, Feast of Worms, Garden of Souls, Forever Sands, Wrathful Plains, Teetering Hope

Update

After release, Forge has 17 Hoods.

Cribs/Gateways?
There are 6 "Portals", one on each of 5 islands... and? These are used to Teleport. No confirmation whether they function as Cribs.
[36]
Stores
There are 10 Stores. Most appear to be "Sinterpol Armory" Weapon Stores. There appears to be no Store Ownership, as all City Takeover territories are accounted for.
[36]
Weapons Cache
The words "Access Weapons Cache" have been replaced with "Access Collected Weapons", further suggesting that there are no cribs.
Playa
It has been stated that your previous character customisations will be imported from a local save file. Presumably a Saints Row IV save file only. It has not been stated what happens if you have multiple characters in multiple save files, or how to choose between them. This is the very first time in the Saints Row series where local importing has been possible - if they can do it across different games like this, then that means they definitely could have allowed importing a character from a different save file the entire time, but chose not to.
Dane Vogel
Is an ally in hell. He gives quests and help, fulfilling the role Kinzie played in the previous game.
Previous characters
Dex's voice actor has recorded lines and appears as a zombie-like demon in hell, and he spawns at least 7 times as part of a Challenge. Legal Lee and Troy are specifically mentioned, but it is not known if they physically appear.
Challenges
There are 102. Only 56 are known. Challenges have been merged into the main quest log, and are split into related groups.

Update

After release, there are now 101 Challenges

It is not possible to view completed Challenges.

[37]
City Takeover
Territories are now all Hoods with actual names, and appear to contain exactly one point of interest.
Satan's Wrath
City Takeover is now required to progress the story. "Satan's Wrath" can be increased simply by collecting Soul Clusters, Audio Tomes, Commentaries, doing Barnstorming, and destroying Spires. Therefore City Takeover is not required.
Diversion Targets
65 Marked Diversion Targets (+17 Activities = 82, but there are only 81 hoods. So there is one Target or Activity which does NOT unlock a Hood.)

Update

After release, there are now 82 Hoods.

[6] [36]
Vehicle Diversions
Known Targets
Marshalling Grounds (5), Extraction Facility (4), Survival (13), Altars (8)
[38] [39] [40] [41]
Flashpoints
"Spires" are targets which appear to be the size of Flashpoints. They incorporate to "Hold Y" mechanic from Hotspots. They can fire missiles from a distance, which can be dodged by a button press. There are 26 spires in total. Spires do not unlock territory.

edit: The map icon for Spires is indeed "map_start_flashpoint"

[42] [43] [44]
Hotspots
"Marshalling Grounds" are targets which are about the size of Hotspots. They incorporate to "Hold Y" to shut down multiple locations from Hotspots. They incorporate the Brute/Warden battle from some Flashpoints. There are 5 Marshalling Grounds, and once taken over they incorporate the teleportation function of Gateways, but only between those 5 locations. Marshalling Grounds are filled with lava until they are unlocked.

edit: The map icon for Marshalling Grounds is indeed "map_start_hotspot"

Clusters
Now known as Soul Clusters, there are 940 of them.
[45]
Cash
Cash is called "Wages" (as in "Wages of Sin")[46]
[47]
Vehicles
Yes, you can drive. There is no Garage, Vehicle Customization, boats or aircraft. There are few cars, and one bike.
[48]
Confirmed Vehicles
Confirmed = name shown on screen.
Weapons
There are 19 weapons. 7 of those are special weapons based on the Seven Deadly Sins. As with Saints Row IV, weapons have Costumes, thus have multiple names. There is no confirmation that costumes can be changed. It appears that while each weapon has a separate costume name, the majority of weapons only have a single costume. (There are 2 Automatic Rifles)

Update

After release, there are now 20 weapons.

[55]
Known Weapons
Weapons in Saints Row: Gat out of Hell
7 deadly weapons
7 Deadly Weapons - Sloth location
Spirit Bilge, right next to the 666 building
"Gat Gear"
The "Gat Gear" trailer is an imitation of Top Gear. Top Gear did not review the Armchair-a-geddon, although the teaser and the full trailer were obviously designed to fool people into thinking they did, including the announcer doing a terrible Jeremy Clarkson impression.
Controls
Whatever your opinion of Steve Jaros, at least he recognises that the right control stick controls your feet, and the left control stick controls your head, and therefore "Inverted" Y is the correct way to play, as you do not move your head forward to look up.
[67]
Activities
17 Activities. 8 Hellblazing, 3 "Torment Fraud", 3 "Salvation", 3 Mayhem.
[36][68] [69] [70] [71] [72]
Barnstorming
Because you have wings, Barnstorming might actually be fun and not a chore. (Also, there are 75 of them - so it's likely still a case of "fly under every single bridge")

Update

After release, we now know that there are 123 locations, but only 75 are needed for the Achievement

[73]
Mispelling
DyWynter [75]
Stilwater [76]
Enemy types
Demons, Dark Inciters, Archdukes (Wardens), Imps, Grenadiers (Murderbots - Specialists with grenade launchers), Shadow Demons (snipers), Legionnaires (Marauders - weaker wardens), Bro Demons, Tragedy Demons.
[77] [78] [79] [80] [81] [82] [83] [84] [85]
Imps
One of the powers is "Summon", one of the elements is "Imps", which causes Imps to be summoned. Once summoned, Imps can be detonated.
[86]
Achievements
There are 45 Achievements / Trophies
[87]
Powers
Freeze blast is replaced by Stone Blast
[87]
Powers
Stomp returns
[87]
Powers
There are 113 Supernatural Power Upgrades
[87]
Collectibles
There are 64 Audio Tomes
[87]
UI mistake
The achievement list again refers to the "Upgrades" menu as "Upgrade Store". In previous games, the term "Upgrade Store" has never been used in-game.
[87]
Achievement
Epic Jump Quest returns as "Epic Flight Quest", and requires flying from the roof of Snowball's Chance to Sinterpol HQ.
[87]
Flying
While flying seems fairly easy in gameplay demos, flying "continuously for 60 seconds" is considered an achievement.
[87]
Powers
Wall running returns
[87]
Locations
Blackbeard's ship is named the "Queen Anne's Revenge"
Features
Those "We at Volition think that you're too stupid to read a map so here is a huge arrow you can't miss" on-screen GPS arrows return.
[88]
Zin
There are no Zin in New Hades
Water
"Water" has joined the list of removed features. All place which would normally have water, such as fountains, have lava. The lava is solid, but you can still "warp to shore". "Sinking" occurs in a scripted animation, it is not possible to "swim" in it, or "sink" in it in normal gameplay.
God
God is voiced by Nathan Fillion
PS4 Bait and Switch
The PS4 version does not contain Gat out of Hell on the disc, it only has a download code for it.
Cause of Death
The actual cause of death of many of the "dead" characters in hell is not addressed in-game. Obviously, everyone who was still alive at the time the Earth was destroyed would have died, but there is absolutely no confirmation when certain characters died.
Health Pickups
Health pickups return, and look identical to Saints Row IV. Why are there Virtual-Reality-style health pickups in real life Hell? (Is this more evidence that they never escaped The Simulation?)
High Fryer
Despite the hype intended by releasing a promo image for it, the "High Fryer" Ferris Wheel is not usable in any way.

Gat/Kinzie can stand on the top of it as if it is a solid ring.

[89]
Advanced Flight Controls
The "Advanced Flight Controls" option has been removed. It is not possible to look around while flying - unlike previous games.
Missions

There is a mission counter on the Save Screen, but nowhere else.
There appear to be no mission end screens - normal unlockable popups are displayed after completing an objective.
Quest Objectives can be selected independently, instead of sequentially.

If you start any objective via the quest menu, and complete it, then the first one autostarts, but it is possible to quit and select a different one.

Quest Objectives are still missions, but now do not have names. (Exiting the "Rally Twins" target just says "failed" with no mission name.)

Optional Tutorials
After unlocking the Summon power, there is a "Summon tutorial" prompt... so it looks amongst the things which have been removed, there has finally been an improvement!
Cutscenes
The majority of exposition takes place in still-image flip-book-style cutscenes. Acquiring "Lucifer's Halo" happens off-screen. Gat and Kinzie's clothes, and hell-tattoos, change off-screen without explanation.
Endings
There are 5 endings. Chosen through a interactive flip-book.

If you want to see Johnny reunited with the love of his life, turn to page 31.

Late-thirties Johnny hooks up with Aisha who looks 20 years younger. That can't be the good ending.

If you want to see The Devil defeated and Johnny crowned the new King of Hell, turn to page 13.

Gat hangs out with Dane until the rest of the Saints die. That can't be the good ending.

If you want the Saints to find a new home world for what's left of humanity, turn to page 62.

You have to wipe out the native inhabitants first. That can't be the good ending.

If you want God to recreate the Earth, but in doing so retcon the entire world of Saints Row, turn to page 124.

Kinzie, Matt and Johnny are cops. - this appears to be the best possible result, and is supported by an idle quote from Johnny.

I'd never say this to the Boss... but sometimes I wish I could just start over. Tabula Rasa. A whole new plot. An entirely different life.


— Johnny Gat

And finally, if you want God to bestow Johnny with all the questions of the universe, turn to page 248.

Johnny nods and smiles - the end. That can't be the good ending.

Regardless of which ending is chosen, Gat and Kinzie are stuck in hell after the credits, and there is no way to return to The Ship, recruit Homies, or interact with non-hell characters.

Voice Commands
There appear to be a number of Gat out of Hell voice command Easter Eggs.

However, Volition claimed in the recent livestream that voice commands were only for Re-elected, and not Gat out of Hell. Can someone with an Xbox One or PS4 confirm that there are no Voice Commands for Gat out of Hell?

References

↑ Image:

↑ Image:

↑ Image:

↑ Image:

↑ Image:

↑ Image:

↑ Image:

↑ Image:

↑ Image:

↑ Image:

↑ Image:

↑ Image:

↑ Image:

↑ Image:

↑ Image:

↑ Image:

↑ Image:

↑ Image:

↑ Image:

↑ Image:

↑ Image:

↑ Image:

↑ Image:

↑ Image:

↑ Image:

↑ Image:

↑ Image:

↑ Image:

↑ Image:

↑ Image:

↑ Note: Confirmed in the Playstation Livestream at 50m50s.
↑ Image:

↑ Image:

↑ Image:

↑ Image:

↑ Image:

↑ Image:

↑ Image:

↑ Image:

↑ Image:

↑ Image:

↑ Image:

↑ Image:

↑ Image:

↑ Image:

↑ Image:

↑ Image:

↑ Image:

↑ Image:

↑ Image:

↑ Image:

↑ Image:

user:452, 2014-09-01T04:05:42Z (last edited: user:TheMoonLightman, 2016-09-07T03:28:15Z)

This wiki does not claim to be a new site. You misspelled news also i hope the weapons listed here arent the only weapons in the game it seems that with each new saints row game the ammount of weapons has been decreasing.
Shotgun9009, 2014-09-04T14:43:17Z (2015-01-24T19:43:33Z)

Cheers!
As it says in the list, there are 19 weapons - so yeah, less than in SRIV. But this is not a "full game", so it makes sense for there to be fewer weapons.
user:452, 2014-09-04T14:46:52Z (2015-01-24T19:43:33Z)

Have you checked out the interview with Jim Boone,Steve and IdolNinja?
Theotherguy4576, 2014-09-13T18:33:56Z (2015-01-24T19:43:34Z)

If it's not mentioned in the post, assume I don't know about it.
user:452, 2014-09-13T18:38:28Z (2015-01-24T19:43:34Z)

Rambulance is the new Diversion, as seen in the new GOOH walkthrough:

user:TheMoonLightman, 2014-09-24T21:14:08Z (2015-01-24T19:43:34Z)

Great, we'll need another disambig page.
user:452, 2014-09-24T21:37:41Z (2015-01-24T19:43:34Z)




They fixed "DyWynter View" misspelling:

user:TheMoonLightman, 2014-09-26T07:03:29Z (2015-01-24T19:43:43Z)

im so excited even if it is not a full game. i cant wait!!! also to see their perspective of hell
67.187.228.3, 2014-10-26T02:03:53Z (2015-01-24T19:43:42Z)
There is a vehicle called "Comet" on a billboard, no idea if this is actually a drivable vehicle in the game.
Edit: Confirmed. This vehicle is part of the "Balls of Fire" diversion.
user:452, 2014-11-01T22:16:16Z (2015-02-01T21:19:08Z)
Archdukes seem to replace Wardens.
user:452, 2014-11-01T22:16:33Z (2015-01-24T19:43:40Z)
There are only 3 vehicles which have diversions.

Rambulance (based on Ambulance) - Starts Rambulance diversion
Predaceptor (Monster Truck, possibly based on Atlasbreaker) - Starts Rampage diversion
Comet (Halberd?) - Starts Balls of Fire diversion

user:452, 2014-11-01T22:17:08Z (2015-01-24T19:43:39Z)

Minotaur = Stilwater Municipal.
Just the Leviathan left to determine.
user:452, 2015-01-23T13:49:51Z (2015-01-24T19:43:39Z)

User:NathanJohnson has just informed me that this standalone expansion has it's own DLC, including an "exclusive" pre-order bonus... that will probably be available separately 2 months after release.
This means that in another year, they will hopefully re-release "Gat out of Hell: +DLC" on disc... so I'm going to wait until then to buy it.
user:452, 2014-11-14T21:22:11Z (2015-01-24T19:43:39Z)

So... "Gat out of Hell DLC" is a DLC for "Gat out of Hell", which is DLC for Saints Row IV, which was supposed to be a DLC for Saints Row: The Third.
$$$$$$$$$$$$$$$$$$$$$$$$$$$$$$
TheAnonim13, 2014-11-15T11:46:10Z (2015-01-24T19:43:39Z)

Dane Vogel has a hologram of hell very similar to Zinyak's Hologram of Virtual Steelport.[1]
Jim Boone thinks the audience is too stupid to realise that Dane Vogel is "an old friend".[1]
Jim Boone thinks the audience is too stupid to know that Steelport was the setting of SR3 and SR4.[1]
Jim Boone thinks the Gods Hammer is named "War Hammer".[1]
Shadow Demons are Snipers.[1]

user:452, 2014-11-23T20:43:08Z (2015-01-24T19:24:36Z)
In Divekick, Gat has at least 3 alternate costumes.
In Saints Row: Gat out of Hell, Gat has 0 alternate costumes.
user:452, 2014-11-23T21:06:01Z (last edited: user:452, 2016-04-21T22:42:18Z)

Such bullcrap from Volition. Was it really that hard to throw in some ability to change clothes or even hair?
NathanJohnson, 2015-01-02T13:58:59Z (2015-02-01T21:27:17Z)
Hey he's Johnny gat man he doesn't need one cuz he's gat
172.56.17.17, 2015-01-02T05:08:49Z (2015-02-01T21:27:17Z)
"Johnny Gat is Johnny Gat therefore this Saints Row game doesn't need a core feature of past Saints Row games."
No.
user:452, 2015-01-02T05:14:41Z (2015-02-01T21:27:18Z)

Cutscenes

I hope everyone likes flip-book-style cutscenes, and enjoyed the lack of details about Playa becoming President!

Fact: I was looking forward to learning how exactly Gat and Kinzie got their clothes in hell, and how they got those hell-arms.
Fact: Both of those things happens in a flip-book-style cutscene.

I think you might be skipping some details

— Kinzie, speaking about the game itself.

user:452, 2015-01-13T16:44:45Z (2015-01-24T19:43:37Z)

Even the ending is heavy with flipping-pages bullshit.

If you want to see Johnny reunited with the love of his life, turn to page 31.
If you want to see The Devil defeated and Johnny crowned the new King of Hell, turn to page 13.
If you want the Saints to find a new home world for what's left of humanity, turn to page 62.
If you want God to recreate the Earth, but in doing so retcon the entire world of Saints Row, turn to page 124.
And finally, if you want God to bestow Johnny with all the questions of the universe, turn to page 248.

You then get to flip the book pages yourself.
Hey, at least they in-universe acknowledge retconning.
It's hard to tell which one is the "good" ending.

31: Apparently late-thirties Johnny hooks up with late-teens Aisha. That can't be the good ending.
13: You hang out with Dane until the rest of the Saints die. That can't be the good ending.
62: You have to wipe out the native inhabitants first. That can't be the good ending.
124: Kinzie, Matt and Johnny are cops. - this appears to be the best possible result, but I saw it without audio or subtitles, so I don't know what was really going on.
248: Johnny nods and smiles - the end. But I saw it without audio or subtitles, so there may be more to it.

user:452, 2015-01-19T17:57:37Z (2015-01-24T19:43:38Z)
And despite being reunited with Aisha, Gat is stuck in New Hades after the mission.

user:452, 2015-01-19T18:10:04Z (2015-01-24T19:43:38Z)

All of the endings are named "alt", so no clues there.

Alt_Heaven
Alt_Hell
Alt_New_Planet
Alt_New_Earth
Alt_Cosmic

user:452, 2015-02-03T00:48:15Z




Mission end screens

There appear to be no mission end screens - normal unlockable popups are displayed after completing an objective.
So, I guess we'll have to go with Quests in Saints Row: Gat out of Hell - at least until I can find out if there are mission names.
Also, Quest Objectives can be selected independently, instead of sequentially.
...and Quest Objectives still appear to be missions.


During the "Charge Halo" question, after each the "Collect the X Power", unlockable screens are shown, indicating that a mission has been completed. The next Objective in that quest is autostarted.

In the PS livestream, they began with the first objective, I assume that if you complete any of the other objectives first, then the first one would autostart. No idea whether you can "quit" and objective and select another: but probably.
user:452, 2015-01-13T19:49:39Z (2015-01-24T19:43:35Z)

In the gamestop livestream, they go to the "Rescue vlad" target on the map instead of starting it through the quests menu, this is the "Collect the Aura Power" objective, and no quest autostarts upon completion.
I think it's pretty stupid to call the objective "Collect the Aura Power", instead of "Rescue Vlad".
The whole "list of objectives" thing on the whole really breaks the immersion in both Saints Row IV and this.
One of the few things which Saints Row: The Third did right was to use the phone as the Mission starter: You call someone, and they give you something to do. You don't "Call Pierce and ask him how to Collect the Aura Power"
user:452, 2015-01-16T17:32:45Z (2015-01-24T19:43:36Z)
The final mission has a normal end screen.
Mission name: Defeat Satan.

user:452, 2015-01-19T17:59:49Z (2015-01-24T19:43:36Z)




Stats screen does not have a stat for missions completed, but does have "Loyalty missions completed".

Marshalling Grounds is where Hotspots was.
Spires is where Flashpoints was.
Altars is where Stores Hacked was.

At the beginning of the game, Gat falls 70-72ft - I paused as soon as possible, but i'm getting varying results when I start a new game:
----

Aliens = Demons
Wardens = Archdukes
Marauders = Legionnaries
Murderbots = Grenadiers
Command Cids = Sin Orbs?
Total Law Enforcement = Total Sinterpol Agents
Civilians = Husks

Same number of enemy classes, that's convenient!
Since Barnstorming skipped a game, I'm unsure if it was simply reactivated in the stats, or if it's a new entry.
In Saints Row IV, there are 4 entries between Unarmed Kills and Vehicle Surfing Longest Time

Tk Throws
Cat & Mouse: Most Points Earned
Cat & Mouse: Cache Earned
Total Streaking Time

In Gat out of Hell, there are 3 entries between Unarmed Kills and Vehicle Surfing Longest Time

Barnstorm Locations Found
Blackbeard Glyphs Collected
Blackbeard Chests Collected

These are the only new stats that don't really correspond to old stats.
user:452, 2015-01-23T12:40:46Z (2015-01-24T19:43:36Z)
BUT, "Missions Completed" is still shown on the save/load screen.
Although an autosave is made after the opening cutscene, it is not possible to save immediately. This is different, in all other games it is possible to save during the first mission.
Upon exiting to the title screen and choosing continue, the opening cutscene plays, rather than starting from the autosave, this indicates that it is also the cutscene for the first "mission".
user:452, 2015-01-23T13:36:23Z (2015-01-24T19:43:36Z)
First mission:
If you access the Map:

Go to Map
Set GPS to Ultor

During the first mission, "You Can't Access this Yet" on Sinterpol Armories.
It is possible to pick up dropped weapons, and somehow Gat has a .45 Fletcher.
It is not possible to quit during the first mission. After reaching the flight tutorial, it is possible to exist the quest, with the message "FAILED - The Quest was cancelled": no mission name. Fuck.

At this time, the autosave still reads 0 missions completed, 0% complete.
It is not possible to access the Map
It is not possible to just buy flight and fly.

Objectives for this portion:

Collect Soul Clusters (4)
Access Arcane Menu

...fly, fly, fly, blah
Map never becomes available, if you fly too far away, you get pulled back.
Upon complete, save text reads

"Welcome to Hell"
2 Missions completed
7% completion

Completed quests menu:

Welcome to Hell

Go to Hell
Spread your Wings

Obviously, that's mission 1 and 2. Hopefully these have internal mission names, I'll know soon enough.
user:452, 2015-01-23T13:49:24Z (2015-01-24T19:43:37Z)
I'm currently mis-using the {{mission}} template on Quest pages until we can figure out how it all fits together.
Exiting the "Rally Twins" target also just says "failed" and no mission name.
user:452, 2015-01-23T18:56:27Z (2015-01-24T19:43:37Z)

I assume that if you complete any of the other objectives first, then the first one would autostart.

My assumption was correct: If you start one of the other objectives via the quest menu first, and complete it, then the first one autostarts.
If you start the target via the map marker, nothing autostarts afterwards.
user:452, 2015-01-30T00:46:30Z

Optional Tutorials

After unlocking the Summon power, there is a "Summon tutorial" prompt... so it looks amongst the things which have been removed, there has finally been an improvement!
user:452, 2015-01-13T19:51:34Z (2015-01-24T19:24:32Z)
When I first wrote "As in the Wages of Sin", I was technically speculating, but this has now been confirmed.
user:452, 2015-01-14T23:35:39Z (2015-01-24T19:24:32Z)
Someone forgot how to spell Stilwater.

Maybe they'll fix it by the game's release.
WikiaIvan1997, 2015-01-15T17:26:19Z (2015-01-24T19:24:32Z)
During the livestream, they showed a boxed copy, so I assume they were playing the disc from that box.
user:452, 2015-01-15T17:32:24Z (2015-01-24T19:43:35Z)
Incidentally, the spelling mistake is still in the released game.
user:452, 2015-02-01T20:57:36Z

The series has gone from

Saints Row: "Complete missions to unlock territory: required to complete game"
Saints Row 2: "Complete missions to unlock territory: required to complete game"
Saints Row: The Third: "Complete activities to unlock territory: completely optional"
Saints Row IV: "Same, with the motive of 'causing chaos to corrupt the system' ...but you don't really have to."

and finally:

Gat out of Hell: "Complete activities to unlock territory: required to progress the story".

I'm not saying I disagree, but it's certainly odd how things have changed.

Edit: unlocking territory is not required to progress the story, as non-terrority diversions also progress the Satan's Wrath meter.

user:452, 2015-01-15T00:10:31Z (last edited: user:452, 2016-04-21T22:42:37Z)

Looking at it another way: they've gone back to "Earn respect to unlock more missions", but with territory switched around so that it's unlocked due to activities rather than missions.
user:452, 2015-01-16T16:01:09Z (2015-01-24T19:43:35Z)

For the record, I like that each territory is now a hood with a name.
I think that City Takeover was one of the best improvements made in SRTT, but I thought that the arbitrary territories in SRTT and SRIV were dumb.
But since each hood is relatively small and only contains one usable target/store/activity, creating an article for each of the 81 hoods may be excessive.
I think that to start with, we should create an article for each district, with neighborhood redirects.
Then later, if the information for each neighborhood grows significantly, we can split them.
user:452, 2015-01-15T03:22:37Z (2015-01-24T19:24:30Z)
Well, it's happened. Water has joined the list of removed features.
The lava is solid, but you can still "warp to shore".
user:452, 2015-01-15T21:28:01Z (2015-01-24T19:24:30Z)
Gamespot livestream, 16m34s, Kate Nelson switches to the Lil' Croaker, explains how it works, and uses it until 17m22s.
Dumbarse Gamestop guy obviously wasn't paying any fucking attention, as at 19m55s he acts like he hadn't already seen it in action.

At 21m05s, Dumbarse misinterprets the question "do aliens go to hell" as an "interesting metaphysical question".
The question is obviously asking "Are the Zin from Saints Row IV in New Hades".
Dumbarse is then surprised when Kate says that they did consider about it.
user:452, 2015-01-16T17:46:03Z (2015-01-24T19:24:30Z)

25m10s, Kate demonstrates summoning an imp.
7 seconds later, while still discussing summoning imps, Kate summons another imp, 2 seconds after that dumbarse says "what did you just do? you set something on the ground back there".

user:452, 2015-01-19T16:38:12Z (2015-01-24T19:24:30Z)

Apparently Gat out of Hell has leaked.
Pirates are welcome to add information to the wiki, and spoilers are welcome as long as proof is provided.
But please do not add instructions on how to pirate the game.
Oh, cool, there was another livestream today, and it's still available here: http://www.twitch.tv/dsvolition/b/611875222
user:452, 2015-01-17T02:57:45Z (2015-01-24T19:24:29Z)
Haha, Nathan Fillion is God.
user:452, 2015-01-19T17:50:18Z (2015-01-24T19:24:29Z)
Apparently, and this is totally unconfirmed: The PS4 version does not contain Gat out of Hell on the disc, it only has a download code for it.


user:452, 2015-01-19T22:51:38Z (2015-01-24T19:24:28Z)




http://www.youtube.com/watch?v=s0EoGlgGVng - all weapons, upgrades and 7 Deadly Sins weapons gameplay. Oh, and Genki.
user:TheMoonLightman, 2015-01-19T23:31:15Z (2015-01-24T19:24:28Z)
why has saints row games gone all super powers why don't they just get another like 3 in my opinion that is I still love the games that they make
82.35.99.80, 2015-01-20T21:19:22Z (2015-02-01T21:19:09Z)
"(Character) was killed when Zinyak blew up the Earth" has been added to many articles.
For now, I'm adding fact tags, but unless actual evidence is added that they were still alive at the time the Earth was destroyed, then this is speculation, and will be removed.
user:452, 2015-01-22T16:18:03Z (2015-01-24T19:24:28Z)
And remember, just because the game is released doesn't mean it's an "information without references" free-for-all.

Before release: All unreferenced information is removed, no speculation is allowed.
After release: All unreferenced information is marked with {{ref?}}, no speculation is allowed.

Any information which is marked with a fact tag and does not receive a reference may be later removed. Usually unreferenced information is not removed for at least a month.
user:452, 2015-01-22T17:09:29Z (2015-01-24T19:24:28Z)
Health pickups return, and look identical to Saints Row IV.
Enemies dropping Health pickups worked in The Simulation, but why are there virtual reality health pickups in Hell?
user:452, 2015-01-23T13:51:49Z (2015-01-24T19:24:26Z)
"19 Weapons" issue resolved: The final "Fully Upgrade all Weapons" count is now 20.
This is exactly why all pre-release information must be referenced and marked with {{unconfirmed}}.
If we had just put "There are 19 weapons in GooH" without a reference, people could accuse the wiki of being "wrong".
The wiki reflected the currently available information, with evidence, and the upcoming tag explained that pre-release information may turn out to be false.
Although they were so proud that they released a promo image for it, the "High Fryer" Ferris Wheel is not usable in any way.
Gat can stand on the top of it as if it is a solid circle. *facepalm*
(Can someone get a screenshot of this? kthx.)
user:452, 2015-01-23T15:38:09Z (2015-01-24T19:43:33Z)

Something like this?




WildBrick142, 2015-01-23T19:15:49Z (last edited: user:452, 2015-02-02T05:10:30Z)

Thanks!
user:452, 2015-01-23T19:23:53Z (2015-01-24T19:43:33Z)

Wow. If there is a no Saints Row IV save file present, Gat out of Hell will not load.
I just signed out of my profile, created a new one, and tried to start the game, and I get the error:

"The save file could not be loaded because the file has been corrupted or is an invalid save file."

There is NO save file, because it is a new profile.
user:452, 2015-01-23T19:09:58Z (2015-01-24T19:24:25Z)
Twice now, immediately after completing Welcome to Hell, I've flown to the east, towards the tutorial area, and the sky has gone grey and the lava has disappeared completely.
Has anyone else seen this happen?
user:452, 2015-01-23T19:33:09Z (2015-01-24T19:24:25Z)
The "Gat Gear" trailer is a lame imitation of Top Gear. Top Gear did not actually review the Armchair-a-geddon, although the teaser and the full trailer were obviously designed to make people think they did, complete with an announcer doing a terrible Jeremy Clarkson impression.
user:452, 2015-01-24T04:33:56Z (2015-01-24T19:24:25Z)
Genki sometimes randomly spawns instead of an Archdemon, armed with "7 Deadly Weapons - Wrath : Ark of the Covenant"
user:452, 2015-01-24T15:32:44Z (2015-01-24T19:24:25Z)
Billboard: "Mark of the beast - tattoos and body mods" is Volition's way of saying "We know you like customization, so here's a billboard advertising something you can't have."
user:452, 2015-01-25T02:51:56Z
Marshalling Grounds are filled with lava until they are unlocked.
user:452, 2015-01-25T03:52:28Z
Cheats in Saints Row: Gat out of Hell will be a really short article.
user:452, 2015-01-25T03:53:19Z
There appear to be a number of Gat out of Hell-related voice command Easter Eggs.
However, Volition claimed in the recent livestream that voice commands were only for Re-elected, and not Gat out of Hell.
Can someone with an Xbox One or PS4 confirm that there are no Voice Commands for Gat out of Hell?
user:452, 2015-01-25T17:59:54Z
Fun fact: Vlad is called "Vlad" at all points during the game.
There is an entry for the Homies menu named "VLAD THE IMPALER", but since there is no Homies menu in the game, this is never visible.
While he is obviously based upon Vlad, and the unused Homies menu name is valid trivia, his name in the game is Vlad.
edit: Ah, but we already have a Vlad, so Vlad (Saints Row 2) and Vlad (Saints Row: Gat out of Hell) it is!
user:452, 2015-01-25T18:25:50Z (last edited: user:452, 2015-01-25T18:39:34Z)

There are 60 vehicles in vehicles.vpp_pc, but most are duplicates.
Incidentally, there are 107 vehicle definition files, all left over from SRIV.

I've parsed the files and generated stats, variants and spawning changes, but I've run into a snag. Because there is no Garage, they didn't bother to update the display names, only the logos.
Historically, this wiki has always used the defined Display Name, because this is what is used in the Garage.
car_2dr_compact04

Display_Name = HALBERD
Bitmap = l_comet

So this time, we're going to have to go with the logo.

Internal
Defined Name
Logo
Notes
car_2dr_demon
Demon
No custom logo
Shows default L_Emu
bike_standard02_cyber
Cyber Estrada
No custom logo
Shows default L_Estrada
heli_standard_02
Thompson
No custom logo
Shows default L_Thompson
sp_stargate
Stargate
No logo defined
Used in Pledge Rush and SRIV
sp_tank01
Challenger
No custom logo
Shows default l_challenger
sp_tank03
Crusader
Leviathan!
Confirmed in-game
sp_gat01
Gatmobile
No custom logo :(
Shows default l_gatmobile
truck_4dr_pickup04
Compensator
No custom logo
Shows default L_Compensator
bike_standard02
Estrada
Goat
bike_heaven
Estrada
Goat
car_2dr_compact04
Halberd
Comet
car_2dr_sports09
Torch
Hellbat
car_4dr_standard07
Churchill
Corroda
sp_ambulance01
Ambulance
Rambulance
sp_apc01
Bear
Soul in One
sp_limo01_glt
Limo
Machiavelli
A Status Quo, not in SRIV
suv_4dr_07
Taxi
No custom Logo
Available! Former Kayak - uses default L_Taxi
truck_2dr_garbage01
Municipal
Minotaur
truck_2dr_monster01
Atlasbreaker
Predaceptor

There's a logo for a "Sinterpol Tank", but it's not defined in the vehicles files as being used.

car_2dr_compact04      l_comet
car_4dr_standard07     l_corroda
bike_heaven            l_goat
car_2dr_sports09       l_hellbat
sp_tank03              l_leviathan
sp_limo01_glt          l_machiavelli
truck_2dr_garbage01    l_minotaur
truck_2dr_monster01    l_predaceptor
sp_ambulance01         l_rambulance
sp_apc01               l_soul_in_one



I would say that it was likely that the vehicles without logos defined were unused - however, the Taxi doesn't not have a custom logo defined, yet obviously is available, so... anything is possible. (Unless the spawning file says it isn't.)
Okay, taxi logo mystery solved: The above logos were defined for variants, the taxi logo is defined for the base vehicle, as is everything else. If the Demon is obtained, it will have a l_emu logo, the same with all of the others without special logos defined.
l_sinterpol_tank is referenced in ui_images.xtbl, but not by any other file, so it's not looking good for that tank.

DEMON    (car_2dr_demon)
100% Average
  Chassis
      100% Option 1     standard
  Hood
      100% Option 1     Hood1
      0%   Option 2     Hood2
  Licence Plate Letters
      100% JMM       Combo 1
  Licence Plate Numbers
      100% Option 1     Combo 2       5610
  Rear Bumper
      100% Option 1     Bumper_Rear1
  Wheels
      33%  Option 1
               W_003_F_Reg_Profile
               W_003_R_Reg_Profile
               R_107_F
               R_107_R
      33%  Option 2
               W_003_F_Reg_Profile
               W_003_R_Reg_Profile
               R_106_F
               R_106_R
      34%  Option 3
               W_003_F_Reg_Profile
               W_003_R_Reg_Profile
               R_108_F
               R_108_R
  Spoiler
      100% Option 1     Spoiler1
  Defrost
      100% New Chance      Decal 1       Defroster_Black
  Grime
      100% New Chance
               Grime 1       grime 75
               Grime 2       grime 100
               Grime Value      grime 75
  Front Bumper
      100% Option 1     Bumper_F1
  Exhaust Tips
      100% Option 1     Exhaust1
  Nitrous
      100% Nitrous      None
  Kneecappers
      100% Nitrous      None
  Decal 2
      100% Option 1     none
  Colors
     Body
      100% Body
         Body Color1    Modern (any)
         Body Color2    Gloss Satin Bright White
         Trim Color1    Plastic Jet Black
         Trim Color2    Rubber Gray Medium
         Window Tint    Glass Tint 60%
         Misc. Color    Glass Tint 100%
         Mechanical Color  Glass Tint 40%
         Rim Color      Metal Stainless Steel


EMU    (car_2dr_compact08)
100% Average
  Chassis
      100% Option 1     standard
  Hood
      100% Option 1     Hood1
      0%   Option 2     Hood2
  Licence Plate Letters
      100% JMM       Combo 1
  Licence Plate Numbers
      100% Option 1     Combo 2       5610
  Rear Bumper
      100% Option 1     Bumper_Rear1
  Wheels
      33%  Option 1
               W_003_F_Reg_Profile
               W_003_R_Reg_Profile
               R_107_F
               R_107_R
      33%  Option 2
               W_003_F_Reg_Profile
               W_003_R_Reg_Profile
               R_106_F
               R_106_R
      34%  Option 3
               W_003_F_Reg_Profile
               W_003_R_Reg_Profile
               R_108_F
               R_108_R
  Spoiler
      100% Option 1     Spoiler1
  Defrost
      100% New Chance      Decal 1       Defroster_Black
  Grime
      100% New Chance
               Grime 1       grime 75
               Grime 2       grime 100
               Grime Value      grime 75
  Front Bumper
      100% Option 1     Bumper_F1
  Exhaust Tips
      100% Option 1     Exhaust1
  Nitrous
      100% Nitrous      None
  Kneecappers
      100% Nitrous      None
  Decal 2
      100% Option 1     none
  Colors
     Body
      100% Body
         Body Color1    Modern (any)
         Body Color2    Gloss Satin Bright White
         Trim Color1    Plastic Jet Black
         Trim Color2    Rubber Gray Medium
         Window Tint    Glass Tint 60%
         Misc. Color    Glass Tint 100%
         Mechanical Color  Glass Tint 40%
         Rim Color      Metal Stainless Steel



id
name
group
hostage
park
big
AI
speed
nitro
mass
torque
hitpoints
frict
steer
Speed
steer
Angle
pitch
roll
yaw
file
13
DEMON
Standard
Compact
1
0
1
65
75
1000
245
3000
0.015
50
35.0
0.3
0.3
0.4
car_2dr_demon
13
EMU
Standard
Compact
1
0
1
65
75
1000
245
3000
0.015
50
35.0
0.3
0.3
0.4
car_2dr_compact08

car_2dr_demon is not listed in spawn_info_groups, which means it doesn't randomly spawn.
It also does not have a logo defined, which probably means it was scrapped.
There's an Emu in the opening cutscene for Mayhem and it is the only time it appears in game. It may spawn in some parking space but I doubt that.
user:TheMoonLightman, 2015-01-26T05:06:04Z
Awesome, that must be it then - thanks!
user:452, 2015-01-26T05:12:40Z

Powers:

aura_coldfire
aura_vamp
aura_worship
blast_shadow
blast_soul
blast_stone
stomp_flash
stomp_force
stomp_vacuum
summon_imp
summon_titan
summon_tower

Confirming what someone mentioned about there only being 3 elements for each.
user:452, 2015-01-25T19:29:37Z
Leviathan update: It may spawn on the Highway, during Fraud, when you have Adrenaline.
That's what my spawning group tea leaves seem to say anyway.
Happy hunting!
edit: The Leviathan is the Sinterpol Tank. Apparently the "Sinterpol Tank" logo was a placeholder.
Appearantely, looks like one of the radio stations intended to be in the game, GenX, has been discovered inside the game files! I wonder if there are other radio stations there too, like the Mix?
WikiaIvan1997, 2015-01-26T07:53:11Z

Instead of wondering, perhaps you should ask.
The answer is no.
user:452, 2015-01-26T13:35:20Z

It is not possible to look around while flying - unlike previous games, the "advanced flight controls" option has been removed.
user:452, 2015-01-30T14:35:54Z
After completing the first mission, I've done absolutely nothing but fly around and collect Soul Clusters, Audio Tomes, Commentaries and Barnstorming.
Then Dane suddenly reacted as if I've been causing chaos and the musical suddenly started playing.

edit

Loaded my previous save and found a few Barnstorming locations instead of the last commentary: confirmed that just Barnstorming "Gets Satan's attention".
Also, confirmed that as soon as Dane starts talking, it's impossible to save the game. (But since it autosaved after the previous barnstorming location - it's easy to just kill the game open the menu and reload the autosave.)

edit

Reloaded again, explored all hoods instead, Dane tells me "Great job tearing up hell".

Actually, I'm still at 81/82 hoods, i'm not sure what I did this time.
It appears to be from reaching 15% completion, regardless of method.
"Satan didn't have much time to react to the war Gat was waging"

What war?
user:452, 2015-01-30T17:02:37Z (last edited: user:452, 2015-01-30T20:48:28Z)

And if you it the 2/3 trigger before meeting people, they become kidnapped immediately after they give you your power, disappearing before your eyes.
Also, power tutorial is unavailable.
I saved the twins, but even though she's kidnapped, Kiki sent me voice message about Playa being in a soul cystral

I don't see a way to view completed challenges.
user:452, 2015-01-30T20:56:33Z
I'd noticed the lack of Vehicle Surfing prompt while standing on various vehicles, but apparently they just increased the delay until the prompt appears.
user:452, 2015-01-30T21:08:54Z
The undersides of some of the highways are not fully solid, and can be flown into and stood inside. I got back out of way, got trapped in another.
user:452, 2015-01-30T21:55:35Z

I'd never say this to the Boss... but sometimes I wish I could just start over. Tabula Rasa. A whole new plot. An entirely different life.


— Johnny Gat

All comments have now been recovered and re-ordered into the original posting order.

Wow...the endings...kinda suck.

Either this was a recent patch or something else, but the Wages symbol doesn't appear anywhere on the screen now.
Anyone encountered this?
user:TheMoonLightman, 2015-05-10T23:22:40Z

One day I'm going to catch that fucking ghost bus.

— Gat idle line

user:452, 2015-07-02T23:12:54Z
I was trying to determine the distance of the initial fall into hell, and have discovered that spinning the camera and arming and disarming Johnny's gun without moving increases the "total distance travelled" stat.
Waaaaaaaaaaait. Character appearance imported from local save file?!
As in the number 1 missing feature I've wanted in all previous games? It's finally being implemented now that The Protagonist has become non-playable?!
Previously, this question could have been easily answered by "too difficult/lazy to implement", but now that it has been proven possible: Why wasn't this available in Saints Row IV?
user:452, 2014-09-08T13:22:34Z (2015-01-24T19:24:27Z)
"7 Deadly Weapons - Sloth" is located in Glutton's End Spirit Bilge, right next to the 666 building.
user:452, 2014-11-01T22:01:35Z (2015-02-01T21:19:09Z)

So... they hid an awesome weapon in the world, then immediately show everyone the location in every gameplay video... just like they did with the Loud Locust.
I certainly hope there are other secrets to find.
user:452, 2015-01-19T16:43:14Z (2015-02-01T21:19:09Z)

There are no Zin in New Hades.
user:452, 2014-11-01T22:04:52Z (2015-02-01T21:27:19Z)

Will there be a radio in the game with new songs to listen to and new radio stations as well
162.250.115.141, 2014-12-13T20:37:45Z (2015-02-01T21:27:19Z)
It is kinda odd that you replied to this comment.
There appears to be no radio.
user:452, 2014-12-13T21:02:26Z (2015-02-01T21:27:19Z)

There are no boats or aircraft in the game - continuing the recent tradition of removing vehicles types.
There are motorcycles. (Resembles a Melbourne, but the name has not been confirmed.)
edit: Motorcycles can be driven.
user:452, 2014-11-01T22:06:59Z (2015-02-01T21:27:18Z)

This one?

user:TheMoonLightman, 2014-11-01T23:09:12Z (2015-02-01T21:27:18Z)

Which video is that image from?
user:452, 2014-11-23T20:45:31Z (2015-02-01T21:27:18Z)

user:TheMoonLightman, 2014-11-23T22:10:27Z (2015-02-01T21:27:18Z)

Thanks, I hadn't seen that one.
user:452, 2014-11-23T23:09:28Z (2015-02-01T21:27:19Z)

When Smoked, the screen doesn't change colour, it only zooms out and fades to black.
user:452, 2014-11-01T22:09:29Z (2015-02-01T21:19:08Z)
There is no interaction with the Homies on The Ship during the game. So, none of the usual Homies can be Homies, and it is not possible to return.
However, there are end-game cutscenes back on The Ship. (Thanks to Jim Boone for leaking that.)
user:452, 2014-11-01T22:14:46Z (2015-01-23T02:41:39Z)
Saints Row Wiki