Welcome to
Saints Row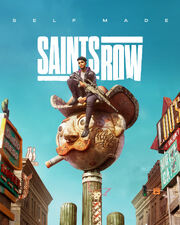 In a world rife with crime, where lawless factions fight for power, a group of young friends embark on their own criminal venture, as they rise to the top in their bid to become Self Made.
Experience the biggest and best Saints Row playground ever created; the unique sprawling world of Santo Ileso is the backdrop for a wild, larger than life sandbox of thrilling side hustles, criminal ventures and blockbuster missions, as you shoot, drive, and wingsuit your way to the top.
As the future Boss, with Neenah, Kevin, and Eli by your side, you'll form The Saints – and take on Los Panteros, The Idols, and Marshall as you build your empire across the streets of Santo Ileso and battle for control of the city. Ultimately Saints Row is the story of a start-up company -- it's just that the business The Saints are in happens to be crime.
Dropping on August 23, 2022!
Best. Customization. Ever.
The new game gives you the most customizable Saints Row experience yet, and here we are showing you an extended look at all of our customization options. What's more, this is not just for your Boss (although we DO have some really cool stuff to show you there), but also extends to your vehicles, favorite weaponry, the Saints HQ, hell, even the city itself. And going one step further – the power to tweak the treads of your trusty recruits and friends.
Also: Yes. Socks are back! We know this is what you came for.
Meet the Gang
Get to know the the denizens of Santo Ileso so that you, too, can be Self Made when the game releases on August 23, 2022!
#BeYourOwnBoss
Boss Factory is a key feature of Saints Row. The mode allows players to use Character Customization to create your own character prior to the launch on August 23.
For more information about this feature, visit here.
Visit the official website here: Boss Factory.
About Us
We are a community database on Saints Row created by fans, for fans. We are dedicated to building a comprehensive and informative resource about all things related to the franchise.
We also have a place for getting to know each other and to talk about Saints Row in our Discussions. Whether you are here to start editing or to chat with fellow users, you are welcome to sign up for an account!