Room Service

"Room Service" mission completion screen
Story arc
Cutscenes
Homies
Enemies

Marked: ?. Minimum kills: ?

Objectives
Rewards
"Room Service" is the eighth mission of the The Ronin story arc in Saints Row 2.
Explosions rock downtown

— Stilwater Gazette newspaper headline
Overview
[
]
As Playa, Johnny Gat and Pierce plan their next move to stop The Ronin, Dane Vogel, the CEO of Ultor, sets foot inside Saints Hideout to tell the 3rd Street Saints that the relationship between Ultor and The Ronin is over. Vogel starts an alliance with the 3rd Street Saints by informing them where Kazuo and Shogo Akuji are hiding out. Playa and Gat leave for the hotel, though not without Pierce staying behind to watch over Vogel in case it's a trap.[1]
Playa and Gat return after destroying the hotel (although the Akujis are not there at the time) and allow Vogel to leave. Just as he does, however, Playa pulls him to one side and asks why Ultor went to The Ronin and not the 3rd Street Saints; Vogel simply replies, "You were in a coma and we couldn't find Julius... timing is everything". Among the wreckage of the hotel, a shamed Kazuo notes to Shogo how his son continues to disappoint him.[2]
Story
[
]
The following text has been transcribed verbatim from the game files.
Upon completion of the Mission, it is available in-game at Newspaper Clipboards.
Citizens were shocked as a downtown hotel was rocked by explosions earlier today. Witnesses report seeing Ronin and Saints fighting inside the hotel before the explosions began. Claims of an individual base jumping from the top floor of the hotel into the atrium have yet to be confirmed.
Gameplay
[
]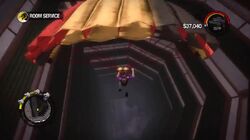 Head to the Ronin hotel
After driving downtown to the Tohoku Towers hotel, enter it.
Kill the Ronin on the ground floor
Kill all five of The Ronin in the atrium alongside Johnny Gat.
Get to the elevator
Take an elevator up and Gat ceases being a Homie. A few 3rd Street Saints members can be found near the hotel who can be recruited.
Place the bombs one floor at a time
Once at the top, seven bombs must be set in different areas and floors of the hotel. After setting the first bomb, a four minute timer starts counting down. Run from marker to marker, setting the bombs and killing any enemies in the way.
Move to the next floor
On the final floor, be aware of a Ronin equipped with an RPG Launcher near the marker.
Head to the suite and kill the Ronin Lieutenants
After the seventh bomb has been planted, head inside the suite nearby and kill the six Ronin lieutenants.
Climb the rail and base jump into the atrium
Jump the rail outside the suite and BASE jump down to the atrium. If no fall damage has been unlocked in the Base Jumping Diversion, it is possible to simply fall down to the atrium without opening the parachute.
Rewards
[
]
Trivia
[
]
Dex's fate is revealed in this mission; Dane Vogel offered him a job at Ultor prior to the events of Saints Row 2. More information can be found on him while starting the bonus mission "Revelation".
The game data files define an extra section to this mission; originally the player would have had to visit an arms dealer to buy the bombs used in the hotel. This arms dealer had a unique "Arms Dealer" variant of the Phoenix vehicle.
As with the previous mission, "Visiting Hours", the map can be confusing during this mission as it shows enemies on all floors of the hotel rather than just those on the current floor, thus showing enemies that aren't there.
Transcript
[
]
"Ultor Makes a House Call" cutscene

[

]
Dane Vogel: "This is a helluva place you got here...I mean, it's a good thing I had my tetanus shot, but beyond that it's, uh...cozy."
Playa: "Do I know you?"
Johnny Gat: "Name's Dane Vogel, he works for Ultor... I remember he swung by the church and offered Dex a job a while back."
Playa: "You're shitting me."
Pierce: "Who's Dex?"
Dane Vogel: "Dex was a man who had higher aspirations than being a thug, you can't blame him for "movin' on up"."
Johnny Gat: "He was a fuckin' sellout."
Dane Vogel: "You call him a sellout, I call him a millionaire."
Playa: "Whaddya want?"
Dane Vogel: "I want to help you."
Playa: "If I need any Ultor Unlimited Sunglasses I'll steal 'em."
Dane Vogel: "So you're familiar with our products?"
Johnny Gat: "Fuck off Vogel."
Dane Vogel: "Do you want our help or not?"
Playa: "Maybe."
Pierce: "Yes."
Johnny Gat: "No."
Dane Vogel: "Well this is a well oiled machine..."
Playa: "What do you got?"
Dane Vogel: "We've recently severed our ties with the Ronin."
Johnny Gat: "Aww, you're breakin' my heart."
Dane Vogel: "I know where the Akuji's lay their heads. I doubt any of your Lieutenants have that information."
Johnny Gat: "I don't know, Shaundi's fucked a lot of guys..."
Pierce: "Gat's talkin' sense..."
Playa: "How do we know it's not a trap?"
Dane Vogel: "That part's easy..."
Dane Vogel: "I'll wait for you here...if you don't make it back, one of your boys can take me out."
Johnny Gat: "Yo, why don't we cut the waiting part?"
Dane Vogel: "I think the waiting part is very important."


Playa: "Gat you're with me; Pierce, you're babysittinn' Vogel."
Playa (Male Voice 2 and 3): "Gat you're with me. Pierce, you're babysittin' Vogel."


Johnny Gat: "You sure you don't want me to take out this asshole now?"
Playa: "Save the bullet for Akuji."


— "Ultor Makes a House Call" cutscene
Gameplay
[
]
Johnny Gat: "God I'm looking forward to taking those assholes apart..."


Playa (Male Voice 1): "Johnny when we get to that hotel we're killing every motherfucker in there."
Playa (Male Voice 2): "Don't worry Johnny we're gonna send the Ronin a message."
Playa (Male Voice 3): "Don't worry man, we're takin' their whole hotel down..."
Playa (Female Voice 1): "Don't worry Johnny, the Ronin are about to have a very bad day..."
Playa (Female Voice 2): "By the time we're through with this place they'll be digging out bodies for a week..."
Playa (Female Voice 3): "Well you're about to get your chance Johnny..."


Johnny Gat: "Good."

I'll take care of the ground floors, you head up...

— Johnny Gat, after clearing out the atrium
Playa Male 1: "I can't wait to watch this place burn..."
Playa Male 2: "So this is where Shogo hangs out..."
Playa Male 3: "Akuji ain't gonna have no place to hide when I'm through here..."
Playa Female 1: "This place is getting trashed and there's not a damn thing you can do about it..."
Playa Female 2: "None of ya'll are stoppin' me from burnin' this place down..."
Playa Female 3: "Time to do a little remodling..."


— Playa, upon arriving at the suite.
"A Father's Love" cutscene

[

]
Pierce: "Yo, they've been gone a long time maybe I should-"
Dane Vogel: "You really shouldn't."


Playa Male 2: "It's all right, Pierce."
Playa: "It's alright Pierce..."


Johnny Gat: "He lead us right to 'em."


Playa Male 2: "Get out of here, Vogel."
Playa: "Get outta here, Vogel"


Dane Vogel: "You've been a gracious host..."
Playa: "How come you went to the Ronin and not us?"
Dane Vogel: "You were in a coma and we couldn't find Julius...timing is everything."
Kazuo Akuji: "I had no idea how far my shame could extend."
Shogo Akuji: "Don't worry father, I'll fix this."
Kazuo Akuji: "No you won't Shogo...you'll continue to disappoint me."


— "A Father's Love" cutscene
Unused
[
]
Playa Male 1: "I need something that goes "boom""
Playa Male 2: "You got anything that can take out a hotel?"
Playa Male 3: "You got my shit?"
Playa Female 1: "Whaddya got in the way of explosives?"
Playa Female 2: "I need some explosives..."
Playa Female 3: "I hear you're the guy to talk to if I need to level a building..."


Arms Dealer: "Trust me, this shit blows up good."


— Playa obtaining explosives from an Arms Dealer during the unused "Get Bombs" objective
Gallery
[
]
References
[
]