Red Light Loft

Save file postcard
Type

Crib

City

Stilwater

Neighborhood
Unlocked after
Games
The Red Light Loft is a crib in Saints Row 2.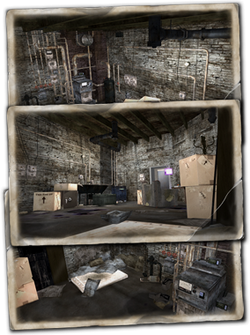 This is the first crib in Saints Row 2, and is unlocked upon completing the second prologue mission.[1]
It is located in the Prawn Court neighborhood of the Red Light District, very near to the Saints Hideout.
It is the smallest Crib in the game but can still be customized. It includes a Television, Wardrobe, Safe, Weapons Cache and a Garage, but lacks a Newspaper Clipboard and Radio.
There are 12 Crib Customization options.
Item
Options
Overall Style
Cheap
Classy
Pimp Pad
Home Theater
10 inch TV
24 inch TV
42 inch LCD and Stereo
Office Area
Boxes
Nice Desk
Stripper Pole
Bed
Bug Ridden Mattress
Queen size
Sectional Pimp Bed
The game files define the value of this Crib at $10,000, despite it being unlocked for free after completing "Appointed Defender".
A building exists in that spot during Saints Row, but it does not have a basement. It is very run down and has "for sale" signs and is covered in graffiti.
Although a Stripper Pole is a Crib Customization option and Strippers spawn inside the Crib, they never pole dance, and often walk through the door.

Walking in and out causes additional strippers to spawn, who may get trapped.[2]

If the TV is damaged in any way, the TV icon disappears. This means that cutscenes and Zombie Uprising cannot be played unless the TV is unharmed. It reappears after leaving and returning or reloading the game.
In Co-op, the guest can open the door while the host cannot.
It is the only crib which features an interior but lacks radio.
↑ Mission: Appointed Defender
↑ Image:
Community content is available under
CC-BY-SA
unless otherwise noted.