Raise a Floppa - The Loop
Play Sound
This is an overview of Radio Stations in Saints Row.
Overview
[
]
There are 12 Radio Stations in Saints Row
In Saints Row, radio stations are available while driving in a car, or on foot through the portable "Audio Player".
Stations
[
]
Alternative Rock and Indie Rock with DJ Paul Driscol
Hip-Hop and Rap with DJ Clinton Sparks
Classic Rock, Punk, and Alternative Rock with DJ Sludge
Hip-Hop and R&B with DJ Eddie Francis
Electronica with DJ Liquid Todd
Modern Rock and Alternative Rock with DJ Kat Corbet
Hip-Hop with DJ Irie
Classical with DJ Carlton Manchester
Reggae with DJ Errol 'DJ Gringo' Anglin
Easy Listening with DJ Mike St Michaels
Hair and Glam Metal with DJ Bubba The Love Sponge
Conservative talk radio with DJs David Lawrence and Mike Schmidt
Police Scanner
Custom playlist with on-foot radio and Xbox playlist support
Commercials
[
]
All stations carry a range of commercials for various Stores around Stilwater.
Trivia
[
]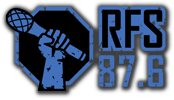 The Saints Row Manual lists a deleted radio station "KRFS", with DJs Bill Leff and Wendy Snyder.[1] The Logo for RFS is included in the Saints Row 2 data files. Bill Leff and Wendy Snyder host a talk radio show together in real life.[2]
In E3 2005 gameplay footage, a radio station called "101.5 WPMP" is active when entering a car. It has a female DJ[3] and plays Snoop Dogg's "Gin And Juice" along with Sugarhill Gang's "Ain't Nothing But A Party".

In footage from Gamepro, WPMP plays 2Pac & 50 Cent's "The Realist Killaz", Cypress Hill's "Insane in the Brain", and Jay-Z's "December 4th".[4]

The No Vin Commercials are for the unused "Novin Used Cars" store, which is mentioned by David on 108.0 WMD KBOOM FM, and has a building in Ezpata.
References
[
]