This article contains some unconfirmed information.

Always check sources of information.
Pre-release information from developers is often inaccurate or misleading.
Some facts on this page may be incomplete or outdated.
Verify everything and add proof, such as references and screenshots.
Remove this header once you have verified everything is correct.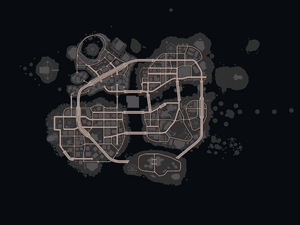 New Hades is the location of Saints Row: Gat out of Hell.[1]
New Hades is a city of hell, composed of five big islands and several small ones surrounded by lava. The big islands are connected by bridges, while the small ones must be accessed by flying. In the center of New Hades, there is the Tower, a huge floating building that serves as Satan's palace. In the sky above the city, there appears to be a huge hole, which hovers right above the palace.
We need you to add more information about this subject.
You can help by editing the page.

Districts
Edit
New Hades has 6 Districts,[1] and 82 Neighborhoods.
References
Edit
Community content is available under
CC-BY-SA
unless otherwise noted.