Mourning Woods Cemetery is a neighborhood in the Suburbs Expansion District of Stilwater.
Mourning Woods Cemetery is part of the new Suburbs Expansion District added in Saints Row 2.
Aisha's funeral is held here by the Saints during the course of the story.[1] It is immediately followed by an impromptu Texas funeral of Shogo Akuji.[2]
The Neighborhood is initially under the control of The Ronin, but is unlocked for the Saints after completing "Rest in Peace".
There are no Activities or Stores in this Neighborhood, but a Secret Area named Cemetery Sex Cavern can be accessed via the crypt labeled "Hawk." A Hitman target can also be found here.
Locations
Edit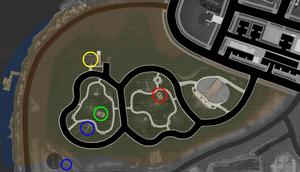 The map in this article shows several locations:
Red circle shows Aisha's Grave
Green circle shows where Shogo was buried
Yellow circle shows the house with screams coming from inside.
Blue circles shows the entrances to the Cemetery Sex Cavern
The gray areas of the map are parts of different neighborhoods.

The names on the gravestones are the names of Volition staff and are not the names of in-game characters.[3]
Aisha's grave is marked by the name "Jennifer Campbell", who is listed as a game tester in the credits.
Although the "Requiem" cutscene for "Rest in Peace" shows Gat and The Protagonist filling in Shogo's grave, it is still open and empty immediately after the mission, as is Aisha's.
A Skydiving Civilian with a failed parachute is programmed to randomly fall into Aisha's grave. This can be triggered by approaching the grave and waiting, and can happen at any time of day, although there is a delay before it can happen again.

Skydiving are one of many Civilian Idle actions, and there are multiple locations throughout the city.

At 11pm until 4am every second night, there are horror-movie-like noises, voices and screams coming from the house at the north end of the Cemetery.
At the same house at the North of the cemetery are unique models. 1 is of a playpark behind the garage and the other a sign on the wall with "M W" in between 2 curly brackets.
The garage of the Mourning Woods house is enterable and shows the hand icon at all times. Inside is a Volition T-Shirt and several Improvised Weapons: wetvac, lawnmower, and step ladder.
A doorman is present outside the house at all times.
There is a semi-exposed coffin next to some rocks, directly north of T intersection in the Trailer Park to the south of the cemetery.
"Morning wood" is a slang term referring to the phenomenon of nocturnal penile tumescence.
References
Edit
Community content is available under
CC-BY-SA
unless otherwise noted.