The Jackrabbit in Saints Row
Class

Compact

Hostage class

Compact

Capacity

2

Doors

?

Convertible

 ?

Speed

70

Nitrous Speed

80

Mass

950

Torque

200

Hit Points

3500

Road Grip

0.0365

Steering Speed

40

Steering Angle

35

Manufacturer

Gravaton

Games
Obtaining
Homies
Areas
Randomly Parked

Yes
The Jackrabbit is a vehicle in Saints Row.
The Jackrabbit seats two people and is common in the Projects districts, and spawns less frequently in Apartments and Downtown.
Chicken Ned drives a Trashed Jackrabbit when called as a Homie.
Mike and Dan, the Loan Sharks, drive a Trashed Jackrabbit when they first pursue Playa.
Performance
Edit
The Jackrabbit is a poor all-around vehicle. It has moderate acceleration and a low top speed, and isn't very durable, as it is easily destroyed by one shot from a Pimp Cane or a few moderate-to-hard accidents.
Modifications
Edit
The Jackrabbit has a total of 17 Vehicle Customization options.
Mods
3 Hoods: Stock, Street (Carbon), Racing (Carbon w/ Intake)

Stock w/ Intake is used by Riced variant, but cannot be selected.

2 Body Kits: Budget, None (BodyKit)
2 Interiors: Beater, Street
3 Spoilers: Street, Race, None
4 Rims: (Beater 1, Beater 2, Sport, Street)
3 Antennas: Beater, Sport, None
Paints
Body Color
Trim Color
Rim Color
Window Tint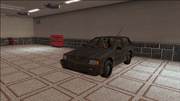 Trashed

95% chance of spawning
Stock Hood and Bumper, Beater Interior
50% chance between Beater 1 and 2 Tires
75% chance of a Beater Antenna
15% chance of "Wash Me!" written on dirty rear window
Riced

5% chance of spawning
Street Interior
Chance of 4 hoods

60% Stock
20% Street (Carbon)
10% Racing (Carbon w/ Intake)
10% Stock w/ Intake (Not available at Mechanic)

50% chance of "BodyKit" Bumpers
50% chance between Sport and Street Tires
75% chance of Riced Antenna
33% chance of a Street or Race Spoiler
Has a nicer paint job.
The Cheat for this vehicle is #5225722248 (#Jackrabbit) - spawns trashed variant only.
Jackrabbits wrecks are present outside Rim Jobs and scattered around the Elysian Fields Trailer Park in Saints Row 2, but not as driveable vehicles.
The Jackrabbit resembles the 1983-1987 third generation Honda Civic.
The name "Jackrabbit" is similar to the Volkswagen Golf Mk1, which were sold in the USA as the Volkswagen Rabbit. The Volkswagen Rabbit also superficially resembles the Jackrabbit.
The visibility of the "Wash Me!" text on the rear window varies depending on lighting conditions.[1]
References
Edit
Community content is available under
CC-BY-SA
unless otherwise noted.