Raise a Floppa - The Loop
Play Sound
Image As Designed is a store in Saints Row, Saints Row 2, Saints Row: The Third and Saints Row IV.
Overview
[
]
Image As Designed allows customization of many aspects of Playa's appearance, movement, Combat style, taunts and compliments, as well as removing all police and gang notoriety.
Image As Designed is classed as a Plastic Surgeon, and is the only Plastic Surgeon store in the game.
Saints Row

[

]
Each visit costs $3000, the cost is not itemized and there are also no discounts available. The stores open at 6 A.M. and close at 9 P.M, and an alarm sounds when the door is kicked open after normal store hours.
Starting a Store Hold-Up in the surgeon's office nets around $1000 to $1500 in cash, and rarely results in police notoriety.
Locations
[
]
Image As Designed buildings are located in the following neighborhoods:
Saints Row 2

[

]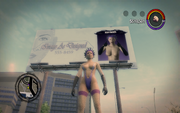 Each visit to the surgeon costs $500, and allows for additional customizations, including gender, the choice of 6 Voices, a variety of Facial expressions and Walking Styles, and multiple Fighting Style which are unlocked through game progression. After normal store hours, it is still possible to use the store.
After buying all locations, Image As Designed billboards show a picture of Playa as the "New Owner".
Locations
[
]
The Store in Cecil Park is gone.
Saints Row: The Third

[

]
In Saints Row: The Third, Image As Designed costs $500 ($450 when owned).[1]
During the storyline, Playa must go to Image As Designed in order to go in disguise as Cyrus Temple.[2] This is the only time that Image As Designed is part of the storyline in any game.
We need you to add more information about this subject.
You can help by editing the page.

Locations
[
]
Saints Row IV

[

]
All Stores are in the same locations, although the interior has been redecorated, and the exterior sign says "Imagined as Edges", which is an anagram of Image As Designed.
Trivia
[
]
Gallery
[
]
References
[
]