The Hurricane in Saints Row 2
Class

Boat

Hostage class

Compact

Capacity

2

Doors

2

Speed

100

Mass

3400

Torque

290

Hit Points

15000

Road Grip

0.075

Steering Speed

40

Steering Angle

0

Games
Obtaining
Areas

Ocean
Near University Dock

Randomly Parked

No
The Hurricane is a vehicle in Saints Row 2.
The Hurricane is the fastest boat in the game, and is one of the fastest vehicles overall. The Hurricane seats two passengers, and because it has an enclosed cabin, it is not possible for either to use weapons while inside it.
As this boat is not available at Ship It, is not unlockable, and is not featured in any missions, it is one of the rarer vehicles of the game.
There is an equal chance between:
3 Roof Hoods: round, wide round and square
2 Rear Spoilers: spoiler or fins
2 Underside Fins: straight or angled
There 4 variants which feature different sponsor color schemes and logos that appear on the craft's body and pontoons:
After being added to the Garage, the same variant is always be retrieved from a Crib Dock, but when calling the Stored Vehicle Delivery homie, the variant is random and is added to the Garage as a new vehicle, which is an easy method to obtain all variants.
Obtaining
Edit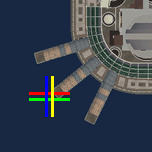 There is only one parked spawning location for a Hurricane, and it is near the University Dock crib.
They randomly appear driving around the ocean anywhere around Stilwater. As with many vehicles, they are not driven at maximum speed by NPCs, so it is possible to successfully steal one by overtaking one and swimming in its path, or by shooting the driver.
When one spawns in Athos Bay, it crashes into the bridge support, drives west, then stops moving directly south of the monument beside the Police Headquarters.
The Cheat for this vehicle is #825.
The vehicle may be a reference to the racing video game series "Hydro Thunder" due to it's similar appearance to boats featured in the game, and it's name; which might be a possible reference to "Hydro Thunder: Hurricane" a game downloadable through the Xbox Live Arcade.
Playa can become trapped underneath the Hurricane.[1]
References
Edit
This article has been rated 11

Silver 11/16












Community content is available under
CC-BY-SA
unless otherwise noted.