Frat Row is a neighborhood in the Stilwater University District of Stilwater.
Overview
Frat Row is one of two neighborhoods in the Stilwater University District, along with Stilwater University itself.
It is mostly comprised of fraternities and a few stores including Scratch That and Brown Baggers. At the center is the Culex Stadium where the Demolition Derby activity takes place.
It also contains a crib which costs $15,000.
Locations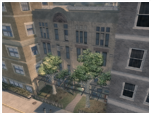 Stores
Activities & Diversions
Cribs
Trivia
"Welcome to Stilwater University Campus Town
Home of the Skeeters
All your base are belong to us"
Gallery
References
Community content is available under
CC-BY-SA
unless otherwise noted.