This article contains some unconfirmed information.

Always check sources of information.
Pre-release information from developers is often inaccurate or misleading.
Some facts on this page may be incomplete or outdated.
Verify everything and add proof, such as references and screenshots.
Remove this header once you have verified everything is correct.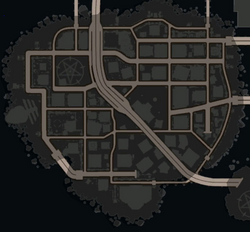 Downtown
is a District of
New Hades
in
Saints Row: Gat out of Hell
.
[1]
Downtown is the south western island of New Hades, and the largest district in the game, consisting of many tall buildings.
Kiki and Viola DeWynter operate out of a building in the DeWynter View neighborhood.
Neighborhoods
Edit
Dragonbone
Edit
On the shore of Dragonbone is an enormous dragon skull, half-sunken into the lava. The mouth can be entered, and there is patch of land at the end, but nothing else.
In the first gameplay demo, DeWynter View was misspelled as "DyWynter View".[17]
"Faithless Hill" is a pun on the name of R&B singer Faith Hill.
References
Edit
↑ Image:

↑ Image:

↑ Image:

↑ Image:

↑ Image:

↑ Image:

↑ Image:

↑ Image:

↑ Image:

↑ Image:

↑ Image:

↑ Image:

↑ Image:

↑ Image:

↑ Image:

↑ Image:

↑ Image:
This article contains no references. See
Help:Cite
.
Community content is available under
CC-BY-SA
unless otherwise noted.