Developer offices

Type
City
Neighborhood
Enterable

Always

Games
The Developer offices is a Secret Area in Saints Row 2.
It is located in the Stilwater Boardwalk neighborhood of the Hotels & Marina district, and has multiple entrances:
Entering through a side door under the "North Shore Marina Super Mall" sign, then following the interior stairs.
Entering through the rooftop door by first climbing the stairs in front of the Charred Hard Burgers, then following the interior stairs.
Using the Stunt Jump ramp out of the underground parking area across the street, and crashing through the window. It can also be entered by piloting an aircraft through the same window.
The office is plainly decorated, having blue wallpaper and a few office desks, chairs and computers. There is also a Volition logo on the wall, but with an eyepatch over one of the face's eyes and "The Game Studio" in place of "Volition". The office also has a huge breakable window overlooking the Marina and the ocean.
In the center of the room is 1 of the 50 collectible CDs.
The Corporate Warfare DLC made use of the offices in a mission.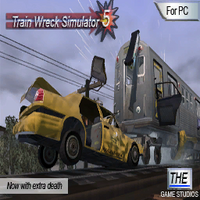 In addition to the Stunt Jump that can be used to enter the building, jumping out of the building in a car is also a Stunt Jump
The room makes a good spot to hide out from the police, as they can not enter it.
Due to the fact that the room contains a Stunt Jump, a collectible CD, and is 1 of the 32 Secret Areas, is it one of the most rewarding Secret locations of the game.
They make a game called "Train Wreck Simulator."
The "Train Wreck Simulator" poster just shows a Taxi in Saints Row smacking into an El Train.
References
Edit
This article contains no references. See
Help:Cite
.
Community content is available under
CC-BY-SA
unless otherwise noted.