We need you to add more information about this subject.

Each location should list the name of the neighborhood

You can help by editing the page.

Chop Shop is an activity in Saints Row, Saints Row 2, and Saints Row Undercover.[reference?]
Find the cars on the list and return them to the chop shop for cash and respect.

— Chop Shop introduction in Saints Row 2[1]
In Chop Shop, Playa is given a list of cars to steal and deliver. Unlike Hijacking, this activity is not timed, the cars can be any car of the correct type and the cars can be delivered at any time.
After receiving the list of cars, it can be accessed through the activities menu, and a car can be selected so that it appears on the radar when it is nearby.
Vehicles delivered to the Chop Shop are given to the Chop Shop permanently. Vehicles from the Garage do not remain in the Garage.
Saints RowEdit
List
Image
Vehicle
Modifications
Cash
Respect
Notes
Docks & Warehouses
Reaper
None
$1,500
700
Docks & Warehouses
Ambulance
None
$1,000
800
[n 1]
Docks & Warehouses
Destiny
None
$750
900
Docks & Warehouses
Taxi
Street Hood
$750
1000
[n 1]
Docks & Warehouses
Slingshot
Stylish Hood
$750
1100
Docks & Warehouses
Bootlegger
Hot Rod Hood
$1,000
1200
Docks & Warehouses
Compton
Muscle Hood, Stylish Rims
$1,000
1300
Docks & Warehouses
La Fuerza
Hot Rod Hood, Low-rider Rims
$1,000
1400
Docks & Warehouses Total
$7,750
8400
Downtown
Cavallaro
None
$500
700
Downtown
Quota
None
$1,000
800
Downtown
FBI
None
$5,000
900
[n 2]
Downtown
Keystone
Retro Spoiler
$500
1000
Downtown
Nordberg
Sports Spoiler
$2,000
1100
Downtown
Nelson
Street Spoiler
$2,500
1200
Downtown
Mag
Off Road 1 Bumpers, Off Road Rims
$2,500
1300
Downtown
Bulldog
Luxury Body Kit, Stylish 1 Rims
$2,500
1400
Downtown Total
$16,500
8400
Chinatown
Peterliner
None
$1,000
700
[n 3]
Chinatown
Nightingale
None
$1,000
800
[n 4]
Chinatown
Halberd
None
$500
900
Chinatown
Westbury
Muscle Rims
$500
1000
Chinatown
Varsity
Street Grill
$500
1100
Chinatown
Raycaster
Racing Exhaust
$2,000
1200
Chinatown
Attrazione
Sport Front Bumper, Convertible Roof
$3,000
1300
[n 5]
Chinatown
Zenith
Racing Exhaust, Racing Convertible Roof
$3,000
1400
Chinatown Total
$11,500
8400
Docks & Warehouses
Edit
The Los Carnales Chop Shop is located in Charlestown, in the Docks & Warehouses District
Miguel: "What homes, never seen a man in a wheelchair before?"
Jen: "Don't mind him, he's just in a bad mood, ain't that right baby?"


Jen kisses Miguel on the cheek.

Miguel: "Hey, you'd be on the rag 24-7 if some berry decided to show you what excessive force was all about. It breaks down like this; my boostin' days are over, the police made sure of that. But that don't mean I don't have an eye for what sells. I got a list tacked up on the wall, you bring me the car, I give you the cash holmes...cool?"


— Miguel[2] and Jen[2] in the The Wheel Man cutscene.
The Vice Kings Chop Shop is located in Filmore, in the Downtown District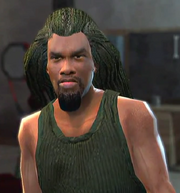 Samson: "Hold on, for a second man..."


Samson finishes wiping a license plate on a car.

Samson: "Perfect...that shit is fucking perfect. Check it out playa..."


Samson gestures for Playa to take a look.

Samson: "Would you believe that four n​iggas got shot in that car? That ride looks like I jacked it right off the lot. My work's in fuckin' demand, son, and with you jackin' some extra cars for me, we could both be makin' some extra cheddar. What you say?"


— Samson[2] in Supply and Demand cutscene.
Chinatown
Edit
The Westside Rollerz Chop Shop is located in Chinatown
Dennis: "Tell Mr. Wong, don't worry...No, I said don't...Yes...I promise, everything is on time, we got nothing to worry about...Alright Good bye."


Dennis hangs up his phone.

Dennis: "I am so fucked."


Dennis turns to Playa.

Dennis: "Sup man...Got any extra time on your hands? This guy Wong put in a big order and I'm having a shitty time finding the cars he asked for. If I don't deliver I'm as useful to him as a used condom. What do you think? Wanna help me find a few rides?"


— Dennis in Wong Time, Wong Place cutscene.
Saints Row 2Edit
In Saints Row 2, the Chop Shop doesn't have a cutscene when starting the activity, instead there is a phone call.
Unlike the Saints Row Chop Shop activity, vehicles do not need to be customized before delivery. However, there is greater police notoriety than in Saints Row, and when jacking a car on the Chop Shop list, whether the car is on the HUD or not, the driver attempts to flee.
The rewards aren't individual to each list.
1 list: the Buggy.
2 lists: unique Saints Combine.
3 lists: "Chop Shop" customization item (unknown)[3]
5 lists: 75% mechanic discount.
While the GPS automatically shows the nearest Chop Shop, the cars can be delivered to any of them.
After delivering a car, the same car can be delivered again for $500 each time.
An additional $10,000 is awarded upon completing a list.
Image
Vehicle
List
Location
Cash
Respect
Notes
Alaskan
Downtown
Hotels and Marina
$1,750
400
[n 1]
Ambulance
Suburbs
Suburbs Expansion
$3,500
800
[n 2],[n 3]
Attrazione
Truckyard
Red Light
$1,500
300
[n 4],[n 5]
Backhoe
Factories
Barrio
$2,000
500
Bag Boy
Factories
Airport
$1,750
400
Betsy
Apartments
Arena
$1,250
250
[n 6]
Bezier
Apartments
Apartments
$2,500
600
[n 4],[n 7],[n 5]
Bulldozer
Factories
Factories
$2,500
600
Churchill
Suburbs
Suburbs Expansion[4][5]
$1,250
250
[n 8]
Compton
Suburbs
Museum
$1,750
400
[n 2]
Cosmos
Apartments
Projects
$3,000
700
[n 6]
Danville
Factories
Truck Yard
$1,250
250
[n 8]
Delivery Truck
Factories
Saints Row
$3,000
700
Eiswolf
Truckyard
Saints Row
$2,500
600
[n 9]
Five-O
Suburbs
Suburbs
$3,000
700
[n 2]
Go!
Downtown
Trailer Park
$1,000
200
[n 6]
Hammerhead
Suburbs
Downtown
$1,500
300
[n 10]
Justice
Downtown

Suburbs Expansion[6]

Downtown[7]

$3,000
700
[n 4],[n 5]
Longhauler
Factories
Red Light
$3,500
800
Mag
Factories
Projects
$1,500
300
Magma
Truckyard
Projects
$1,250
250
[n 11],[n 5]
Melbourne
Apartments
Airport
$2,000
500
[n 5]
Mockingbird
Suburbs
Suburbs
$1,000
200
[n 11]
NRG V8
Apartments
Barrio
$1,500
300
Peacekeeper
Truckyard
Saints Row
$3,500
800
Quota
Suburbs
High End Retail
$2,500
600
Raycaster
Apartments
Chintatown
$1,750
400
Socialite
Truckyard
Apartments
$3,000
700
Status Quo
Apartments
Red Light
$3,500
800
Superiore
Truckyard
Airport
$1,750
400
[n 4],[n 5]
Swindle
Apartments
University
$1,000
200
[n 1]
Taxi
Downtown
Suburbs Expansion
$1,250
150
[n 2],[n 3]
Titan
Downtown
Downtown
$3,500
800
Topher
Suburbs
Hotels and Marina
$2,000
500
Varsity
Downtown
Downtown
$2,000
500
Venom Classic
Truckyard
Chinatown
$2,000
500
[n 10]
Voxel
Truckyard
Barrio
$1,000
200
[n 9]
Voyage
Factories
Docks
$1,000
200
[n 6]
Wellington
Downtown
Downtown
$1,500
300
[n 8]
Zenith
Downtown
Hotels and Marina
$2,500
600
[n 5]
Apartments
Edit
OK, so I'm friends with this crazy environmental artist named Krif Jacobs. She wants to do an installation piece but can't find the cars to do it...you think you can help her out?


— Shaundi
Truckyard
Edit
Factories
Edit
Hunting for the cars prior to starting the Chop Shop activity makes the vehicles vastly easier to find and steal.
The Insurance Fraud diversion causes many of the listed vehicles to spawn, also some of the vehicles can be spawned by calling Phone Numbers.
Go to the pause menu, go to activities, choose Chop Shop, and choose the list. Choose which car you're going to hunt and select it. From then on, on the top left of the screen is a handy reminder of the name of the car, what the car looks like, and where it's located. It'll remain until the car is dropped off at the chop shop or it is deselected.
With the reminder activated, head over to the centre of the district where the car is found. Don't move, just park on the pavement and wait in your car. Eventually, on the mini map you'll see a small yellow car. The Police Notoriety is equal to the rarity to the car - the highest notoriety given is 3 stars.
Kill the driver first, so they cannot drive away.
Usually the driver exits the car after it has taken a certain amount of damage.
In Saints Row some civilians randomly say "Dennis is in way over his head with Wong."
In Saints Row 2, all Chop Shop icons and markers are absent after loading a save file. Playing a mission/Activity/Diversion, however, makes them reappear.
The Brady game guide for Saints Row 2 incorrectly lists a "75% Vehicle Store Discount" for completing 3 lists.
It is possible to access Shaundi's list before having met Shaundi.[8]
References
Edit
↑ Image:

↑ Image:

↑ Image:

↑ Note: The Churchill does not spawn in either the Suburbs or Suburbs Expansion districts.
↑ Image:

↑ Note: The Justice only spawns randomly in the Downtown district
↑ Mission: Three Kings
Community content is available under
CC-BY-SA
unless otherwise noted.