The Cemetery Sex Cavern is a Secret Area under the Mourning Woods Cemetery neighborhood of the Suburbs Expansion District.
Underneath the Mourning Woods Cemetery, there is a "Sex Cavern", containing mattresses, blow-up dolls, coffins, and empty bottles of alcohol.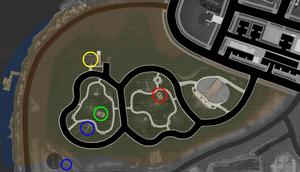 There are two entrances to this cavern, marked on the map with blue circles.
One is within the cemetery itself, via the crypt labeled "HAWK", which has a large hole at the rear of the crypt that leads to the underground tunnels.
The other tunnel is under the water tower to the north-west of the Elysian Fields Trailer Park. This entrance is harder to notice from the outside as it is covered, but it can opened by exploding the nearby barrels, or driving through the barrier.
The Hawk crypt, and the coffin "Mike" inside are references to Senior Associate Producer Mike Hawkins, and it is a complete coincidence that it sounds like "my cock" when said fast.[1]
References
Edit
↑ Twitch: Volition plays Saints Row 2 livestream, 2013-08-15.
This article contains no references. See
Help:Cite
.
Community content is available under
CC-BY-SA
unless otherwise noted.