Image requested

Improve this article by adding an image
of replacement screenshots for photos in gallery.
Back to Basics

"Back to Basics" mission completion screen
Story arc
Homies
Vehicles
Enemies

Marked: 6. Minimum kills: 0[1]

Objectives
Rewards
Stronghold
"Back to Basics" is the second mission in Saints Row.
Alright man, whaddya say we take that piece and clean up the Row?


— Troy to The Protagonist, after buying a weapon at Friendly Fire.
After officially being initiated into Saints, Troy meets The Protagonist outside the church to clear out the Row - specifically Mission Beach.
The mission consists of The Protagonist buying a firearm and, along with Troy, killing a few Vice Kings gang members who are loitering around the Mission Beach neighborhood in the Saint's Row.
The following text has been transcribed verbatim from the game files.
Upon completion of the mission, it is available in-game on the 'Story' page, accessed from the 'INFO' tab of the pause menu.
Troy took you to shop for a gun and then asked you to help him take out some enemies in the Row. With the Vice Kings after you, he took you to Forgive and Forget to get the gang off your back. Once you were safe, Troy asked you to drop him off at Freckle Bitch's.
Whereas the previous mission, "Canonized", introduced hand to hand combat, this mission, "Back to Basics", introduces many other gameplay mechanics in Saints Row; such as sprinting, using weapons, Notoriety, how to drive, and three Stores: Friendly Fire, Forgive and Forget, and Freckle Bitch's.
Buy a gun at Friendly Fire
Alright man, time for you to buy a piece.


— Troy, when the mission is started without a weapon.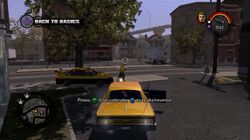 Players begin outside the Saints Row Church, accompanied by Troy, and the first objective varies depending on whether the player has already acquired a weapon.
If no firearms have previously been acquired, the first objective is to go to Friendly Fire to buy a weapon with the Cash earned on completion of the previous mission. If the Cash has already been spent, additional Cash is not given.
This objective can be fulfilled by picking up dropped firearms. If the storekeeper dies before acquiring a firearm, the mission fails, even if it is Troy who kills him.
Kill the Vice Kings hanging out in Saint's Row
Alright man, whaddya say we take that piece and clean up the Row?


— Troy, after a weapon has been acquired.
The mission begins here if a firearm has previously been acquired.
There are 3 groups of two Vice Kings gang members who must be killed. They are all marked on the map immediately, and can be killed in any order. They do not react until The Protagonist attacks them, and Troy does not attack them first.
If a weapon is acquired before starting the mission, or picked up next to where they appear, it is possible to kill the first two Vice Kings before they are marked as targets.
After firing a weapon near the first Vice Kings group, Vice Kings Notoriety is increased to 1.
If The Protagonist is already inside a vehicle, this objective is skipped.
The Vice Kings' Compton near the northern-most group of enemies is marked, but entering any car fulfils the objective. Vice Kings Notoriety is increased to 2 at this point, so more Vice Kings should soon arrive in a Capshaw.
Go to Forgive and Forget
Seven seconds after entering any vehicle, Troy directs the player to drive to a Forgive and Forget store to remove the Gang Notoriety. The route is automatically marked on the GPS.
Although the closest Forgive and Forget is marked, any Forgive and Forget can be used.
Drop Troy off at Freckle Bitch's
Hey man, now that everything's taken care of can you drop me off at Freckle Bitch's? I'm jonesin' for a fun bag.


— Troy, announcing the final objective
Six seconds after Notoriety is removed, Troy asks to be dropped at Freckle Bitch's in Mission Beach, slightly up the road from the marked Forgive and Forget. Upon reaching the Freckle Bitch's marker, Troy gets out of the car without a word and the mission ends.
The mission can be failed by getting smoked, busted, killing the store clerk before acquiring a weapon,[3] or abandoning/killing Troy.
Immediately after completion of this mission, there is a phone call from Julius.
Good work playa...word has gotten out that the Saints ain't bullshittin', now we gotta lock our rep down.


— Julius, over the phone, upon completion of the mission
After this call, all Activities appear on the map.
To continue the 3rd Street Saints prologue story arc, the player will need to play the Carnales' "Abandoned Storefront" Stronghold before they can play "Reclamation". But before that, they'll need some Respect. Until this happens, 2 nag messages will appear on-screen message instructing the player to earn respect by playing activities and to play the Snatch Activity in Harrowgate, although that activity is not compulsory.
This mission is automatically started after "Canonized", but it is possible to exit the mission, and restart it from a mission marker.
This mission has neither a beginning or end cutscene.
This is the first mission in Saints Row that unlocks a Crib; the Saints Row Loft.
The strings file contains two extra objectives that imply the player was originally going to be tasked with buying clothes at Sloppy Seconds.[4][5]
The Pimp Cane does not fulfil the objective to buy a gun.
Transcript
Edit
Alright man, time for you to buy a piece.


— Troy, when the mission is started without a weapon.
Once you got a piece be careful where you wave it around. If people know you're strapped when you go shopping, they're gonna think you're tryin' to knock 'em off.


— Unused Troy line introducing the concept of Hold Ups, intended to have been played after acquiring a gun.
Alright man, whaddya say we take that piece and clean up the Row?


— Troy, after a weapon has been acquired.
What you doing over there? You can't suck my dick from that far away.

— A random line from a Vice Kings gang member
Shit, you don't mess around, do you?

— Troy, after The Protagonist kills a gang member.
Looks like that got their attention...if it ever gets too hot, go to Forgive and Forget, they'll cover up everything...


— Troy, after all Vice Kings have been killed.
Hey man, now that everything's taken care of can you drop me off at Freckle Bitch's? I'm jonesin' for a fun bag.


— Troy, announcing the final objective
It didn't have to be this way, man.

— Troy, shortly before the mission fails for shooting Troy enough times to make him hostile
Good work playa...word has gotten out that the Saints ain't bullshittin', now we gotta lock our rep down.


— Julius, over the phone, upon completion of the mission
References
Edit